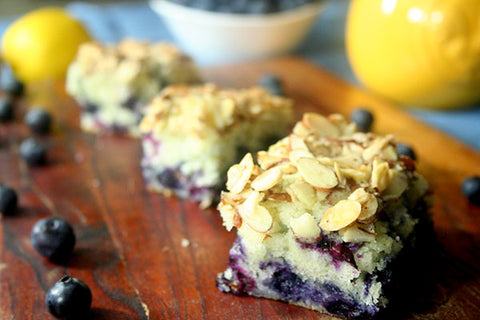 The Prepared Pantry
Blueberry Almond Crunch Cake
Blueberries are not included in this mix. You will need to add either fresh or frozen blueberries. This is out-of-this-world good. We served it in our store at the same time, we served warm cinnamon buns--really good cinnamon buns--and it was a tie. People liked this as much as warm cinnamon buns. That says a lot!
It's a moist cake loaded with blueberries and a crunchy almond topping. A great dessert cake baked in a 9x13-inch pan and perfect as a coffee cake. And it makes the best blueberry cupcakes you've ever had.
An extra large mix--29.5 ounces.
Made with tons of almonds--1 1/4 cups of sliced almonds.
Make a 9 x 13-inch sheet cake or 20 to 24 muffins.
With these many almonds and a cake this large, this is a great price. We served this with lemon sauce from our easy-to-make lemon sauce mix. Blueberries and lemon make a delightful combination.
Nots so good
No flavor at all maybe could have been a little sweeter, actually ended up tossing it
Blueberries at their best
This is an amazing cake with just the right texture and crunch. It also freezes well .
Blueberry Almond Crunch Cake So-So
Not as sweet as I thought it was going to be, but adding some whipped cream to each serving helped a lot. The instructions state to bake 32 minutes with a caveat that different pans and oven require different baking times. The cooking time using my glass pan took 60 minutes.
Another great cake!
This cake is wonderful. We used fresh blueberries as they are coming into season in the South and very happy we did. I did have to bake a little longer but that is a FYI not a complaint. Love PP's cream cake too and this is a lovely addition!
Amazing!
So moist and yummy! Have even made it as gifts.