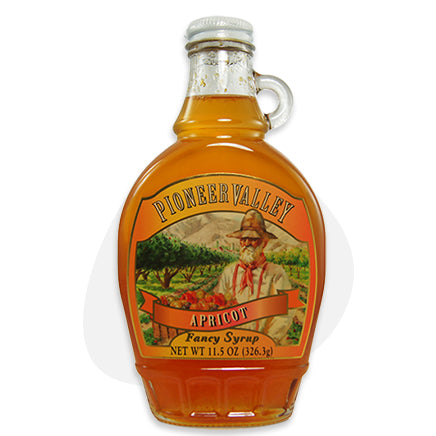 Pioneer Valley
Pioneer Valley Gourmet Apricot Syrup
This is the best apricot syrup I've ever found!--Dennis
What makes it so good? It's got a touch of almond to it, but I  love that--almond and apricot are cousins.  As kids, we used to crack open apricot pits and eat the nuts which were very close to almonds.
We think that it's the careful, handcrafted care that a family-owned company puts into its products. But it's the fruit too. It's made with ripe apricots grown in the mountain valleys of central Utah, one of the nation's great fruit belts.
But then, it's the recipe too. This thick syrup is made with simple fruit juice sweetened with cane sugar. There are no preservatives, no artificial flavors, and no thickeners. You'll feel good about this syrup.
You'll find it thick, rich, flavorful, and the perfect addition to your morning's pancakes or waffles. (Each attractive glass jar contains 11.5 ounces of premium syrup.)
If you don't find this the best apricot syrup you've ever tasted, contact us for a refund.
This is the best apricot syrup we have found, much better than in the stores!
Overpowered by almond flavor
This would be an excellent apricot syrup if not for the overpowering addition of almond extract. You have to order it to find out the almond flavor has been added. There should be a warning in your website description.
Syrup
Great apricot flavor, delicious on waffles.
Apricot Syrup
This apricot syrup is very good. If it had just a bit more apricot flavor, I would have given it five stars. As it is, the almond flavor in it outdoes the apricot. Still good, but definitely needs more apricot!
Gourmet Apricot syrup
My husband and I both love it better than perkins glad I found the Prepared pantry
Review
love the apricot syrup. the banana bread is so delicious