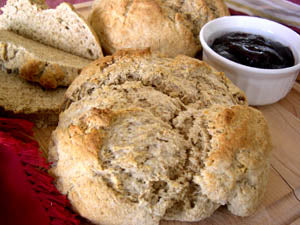 The Prepared Pantry
Irish Soda Quick Bread and Scone Mix (Makes 2 loaves)
Irish Soda Bread
Irish settlers brought this rustic classic to America. It's been described as a cross between a biscuit and a coffee cake. In Ireland, this convenient, hearty bread is served with breakfast, brunch, or tea as delectable platters for butter and preserves.
This is a royal soda bread, much different than the soda and flour concoctions we sometimes find in the recipe books. What're our secrets for great Irish soda bread? We've loaded this bread up with buttermilk and just the right combination of stone ground wheat flour and our best pastry flour. In all of our Irish bread, we slip in a little potato flour--not just for the flavor but to keep the bread moist. Potato Flour is hygroscopic--this is, it attracts moisture from the air rather than drying the bread out. The result is a delectable bread with an aroma that wafts through the kitchen and a taste and texture that is terrific.
Complete directions for both soda bread and scones are included. Butter and eggs are not included.
Editor's note:
For more authentic Irish bread, check out our Irish Potato Wheat Bread and our Irish Potato White Bread. Both of these are leavened with a combination of yeast and soda-buttermilk. They have a unique texture that is more bread-like and less scone-like. (This mix is not suitable for a bread machine.)
So good with preserves!
Mine just came from the oven and this is the first time I've tried it. It's crunchy on top and bottom and moist in the middle. I spread apricot preserves on a slice and it is so good! I'm about to make a cup of coffee and enjoy another slice.
Not my old family recipe.....
Honestly, I have made Irish Soda Bread for more than 50 years, from scratch. I have also made what we call Irish Brown Bread ( a less sweet, whole wheat version). I purchased Prepared Pantry's version for those times I didn't want to breakout all the supplies but still want soda bread. Unfortunately, your product is nothing at all like our family recipes. I made it into 16 scones which I have given away since it just doesn't work for me. Maybe for someone who isn't Irish or who has never had authentic soda bread. Sorry.
I really LOVE the French bread and make it both in the machine and free hand. It is awesome and a real game changer. Still haven't tried the other mixes from my order but am looking forward to. Thanks.
I have not made either of these as of yet.
Review
I love this bread mix! I turn the one mix into 2 small mounds....perfect for housewarming gifts, Thanksgiving gifts, teacher gifts! I wrap it in foil then in a new tea towel with a gift tage. It is so quick and easy to mix up and bake and gift all in the same day.
Review
this is a good soda bread and very easy to make,i also obtained one item for a gift.