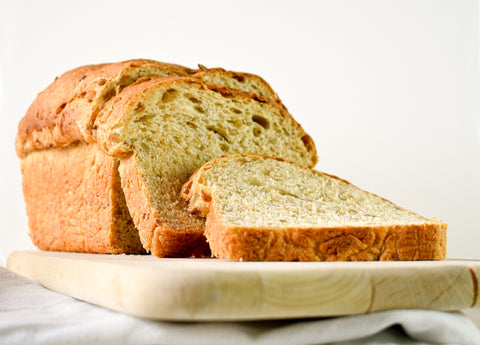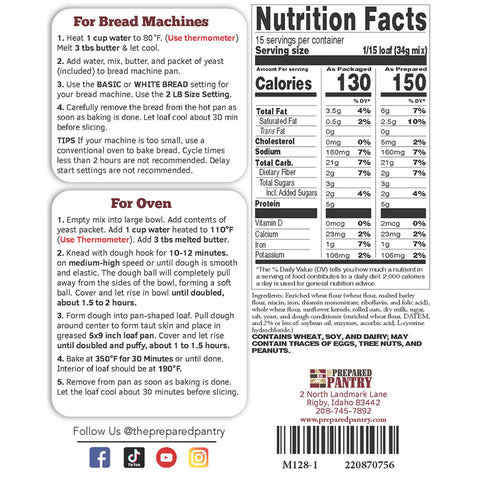 The Prepared Pantry
Sunflower Whole Wheat Bread Mix
Make this with your bread machine, stand-type mixer, or by hand.
Frequently Asked Questions
Made with a healthy combination of wheat flour, sunflower seeds, and whole oats.
A soft, moist bread that your family will love.
Loaded with sunflower seeds--the second ingredient--for a nutty flavor and perfect texture.
Sweetened with honey crystals for the perfect flavor (but it's not a sweet bread).
This bread is so good, we should have named it after a small city. But we called it "Sunflower Whole Wheat Bread." Not too snazzy. It's a whole wheat bread, but if you don't tell the kids, they won't figure it out. It's that soft and moist. 
It looks like everyone that tried it, gave it a "5". I would give it a five. It's an absolutely killer bread.
 So far, every reviewer--100%--gave it a perfect five stars. (And one gave it ten stars.)
"Best of allll. This is amazing. So good that when I cut a piece I also take the crumbs off the cutting board.

Holy moly. Stays fresh longer than other loaves. This is incredible. Best of every one I've tried.

I'm not a fan of whole wheat or sunflower seeds and it surprised me I loved it more than any of the others. I highly recommend and suggest you order a half dozen because everyone will blow through these loaves."

Kathleen

 Chaplin




"Our Favorite Bread! I make bread to share with friends and family. Sunflower Whole Wheat Bread is the one they most often request." 

 




"This is the best bread I've ever tasted, better tasting and better texture than Dave's Killer Good Seed bread, which I considered the top bread."  

 
This is a wonderful whole grain bread made with the best Montana flours, the natural sweetness of honey, lots of whole oats, and sunflower seeds--just like your favorite granola. We're sure you'll love this bread, and it's so good for you too.
It's easy to make. Make it in your bread machine or in your oven. 
Where else do you find a wholesome bread loaded with oats and sunflower seeds?
You've got to try this bread!
Very good. My whole family liked it.
Have not made it yet.
Made country white first, ordered 4 packages, working my way through the orders. All have been great so far and have even recommended your company to the online bread group I belong to.
New Favorite
So good! The sunflower seeds get all warm and plump. It's amazing with honey butter.
Refreshing alternative
Adding whole sunflowers to the bread mix makes this flavor outstanding!
Excellent sunflower whole wheat
This bread was exceptionally good, came out perfect, tasted wonderful