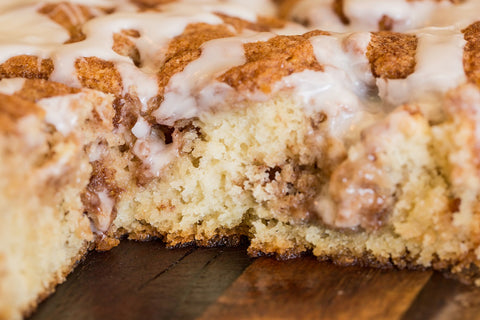 The Prepared Pantry
Frosted Cinnamon Bun Coffeecake
Absolutely Delightful!
This version is better than what we found at a local restaurant.
It's a coffeecake that tastes like a warm cinnamon bun. It's got the perfect crumb with ribbons of cinnamon sugar marbled through the cake. It's drizzled with cinnamon bun frosting.
Perfect for a brunch or a dessert.
Just the right crumb for a coffeecake but it makes a sophisticated dessert. Your friends will ask for the recipe.
Generous ribbons of cinnamon sugar means that you'll have a burst of cinnamon in every bite. Made with the finest cinnamon.
Comes with a frosting packet. All you do is add water and drizzle.
Quick, easy directions so that it works on a busy night.
If your family likes cinnamon rolls, imagine how they will like this. It's guaranteed so give it a try.
Over flowed my pan.
I made this coffee cake for the first time and used a 9x9 pan. It over flowed onto my oven. I wish you would have said to make it in a larger pan. Otherwise it is very tasty and easy to make.
Frosted cinnamon bun coffee cake
Absolutely delicious. Easy baking.
Frosted Cinnamon Bun Coffeecake
The BEST Coffee Cake!
The only issue with this cake is that I didn't want to share it with my elderly neighbor (who always gets some of my baked goods). This is an EXCELLENT coffee cake - not too sweet, delicious sugary/cinnamony swirls, wonderful textures. No picture...we ate it too fast!