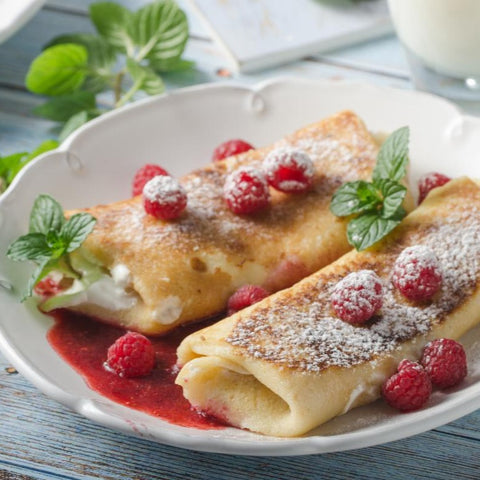 The Prepared Pantry
Family Size Classic Crepe Mix (32 oz)
It's an easy way to make crepes and blintzes.
Just add milk and eggs. Serve with a filling, fruit, or as a main dish with meat and vegetables. Great for blintzes and torts. This is the crepe mix we use in our classes.
Add this to your cart and make restaurant-quality crepes in a jiffy.
Crepe mix
The crepe mix is okay. It's pretty convenient but it's hard to get the chunks out when mixing it doesn't tell you how long to cook the crepes for. Overall it's good and convenient.
Crepe. MIX
Crepes are great but I have been using this batter in a Waffle maker. Oh man are they great.....Crepes waffles.
Sunday Crepes
A warm start to a cold Sunday morning - Crepes. A family inspired stuff and top them like you want them! Fruit, summer jams or a warmed chocolate smooth topping over bananas. Tasty and I recommend them to both young and younger in your household.
fantastic!
I order them as soon as my package is getting low....my family just loves them!
Not to sweet, just right....delicious