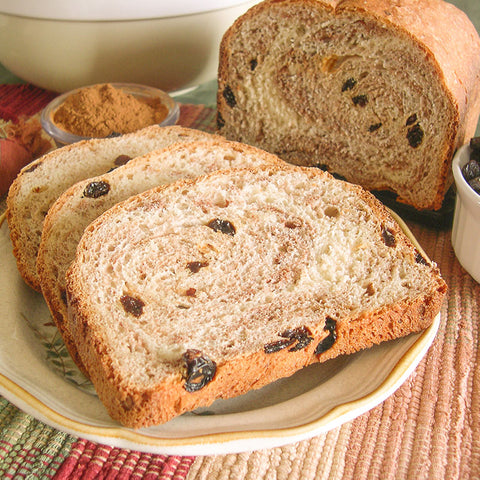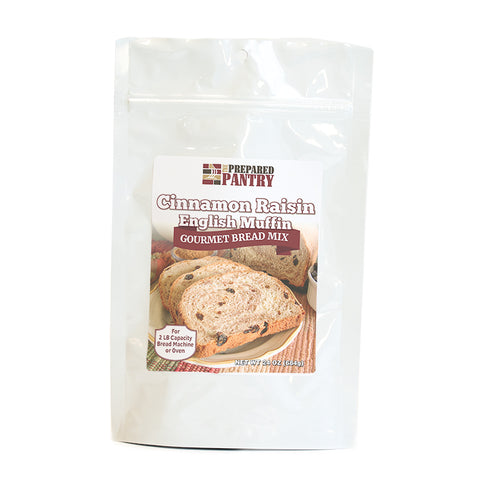 The Prepared Pantry
Cinnamon Raisin English Muffin Bread
Make this with your bread machine, stand-type mixer, or by hand.
Frequently Asked Questions
We guarantee that you will love this bread.
Here's another great English muffin bread with the trademark texture, moist crumb, and rich taste of English muffins all in the convenience of a loaf. You will enjoy the crunch and open crumb of English muffin bread--loaded with cinnamon and plump raisins.
The combination of raisins, cinnamon, and honey. It tastes wonderful. For a special breakfast treat, toast a slice and spread it with your favorite jam. This package contains 1 mix that makes a 1 1/2 pound-sized loaf.
If you make this bread in your bread machine, water temperature is critical. Please use a thermometer to measure water at exactly 80 degrees. A ten-degree difference in water temperature can double the growth rate of the yeast. These bread mixes are satisfaction guaranteed when you use a thermometer.
This English muffin bread mix is loaded with raisins and is made with premium cinnamon.
Great bread!
We have toast most every morning and this is one of our favorites.
Amazing!
This is a family favorite! Not only is it good to eat plain or toasted, but it makes great french toast!
It is so simple to make in my bread machine but tastes like it took all day to prepare!
Cinnamon Raisin English Muffin Bread
Cinnamon Raisin English Muffin Bread
We have tried multiple breads from The Prepared Pantry and have yet to turn a thumbs down on any of them. Easy to make and delicious to eat. We'll be trying more varieties and enjoying them as usual.