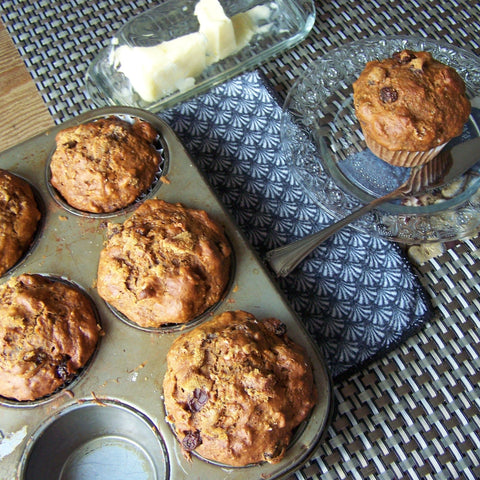 The Prepared Pantry
Cinnamon Raisin Bran Just-Add-Water Muffin Mix
$8.99
$10.99
you save $2.00
Makes wonderful, high-domed muffins 
Loaded with plump fresh raisins and a touch of bright cinnamon
Makes twelve large muffins.
Sweetened with honey.
Economical! Add only water and mix. No butter or eggs 
Made with Whole Grain Wheat
We believe that a healthy breakfast starts with the right foundation, which is why our Cinnamon Raisin Bran is crafted with whole grain wheat. Packed with essential nutrients and dietary fiber, whole grain wheat provides a slow release of energy, keeping you full and satisfied until your next meal.
Sweetened with Natural Brown Sugar Syrup
Our bran cereal is lightly sweetened with natural brown sugar syrup, ensuring a delightful, guilt-free sweetness that perfectly complements the tartness of raisins. Say goodbye to excessive sugar and hello to balanced flavor.
Low in Saturated Fat
We care about your heart health, and that's why we've kept saturated fat to a minimum in our Cinnamon Raisin Bran. A diet low in saturated fat is one of the key factors that can help reduce the risk of heart disease.
Fortified with Essential Nutrients
Your well-being matters to us. Our cereal is fortified with essential nutrients like zinc oxide, vitamin C, and vitamin D, which not only support your immune system but also contribute to overall vitality.
Loaded with Whole Grains
The health benefits of whole grains are well-documented. Our Cinnamon Raisin Bran is abundant in whole grains, which have been shown to reduce the risk of chronic diseases and provide sustained energy throughout the day.
Bursting with Natural Flavor
We've harnessed the goodness of natural flavors to create a cereal that's irresistibly tasty. The warmth of cinnamon and the sweetness of raisins come together to create a symphony of flavors that will leave your taste buds dancing.
What Others Say!
"I have been searching for a bran muffin like this one. Tons of raisins. . . . Moist and great and the number one thing, is it's NOT overly sweet. Will be ordering more soon. Highly recommend."
Judy M
"I just made these this morning for the first time. Well, delicious! I am back on this site buying more."  Linda
"These muffins are perfect. While your plain bran muffins are right down Amazing Lane, this cinnamon raisin bran muffin turns the corner down Awesome Street!" 
Jennifer McHenry
Start your day right with a muffin that is good and good for you.
Tips and Suggestions from Our Customers
"I prefer to make 6 jumbo-sized muffins instead of 12 smaller muffins, and they bake all the way through, unlike some other mixes."--Chris Earls

"Tons of raisins. I added chopped walnuts, and that will be my go-to breakfast."  Judy M 

"I decrease the water and add applesauce and cinnamon. My hubby's favorite."  

Amy Castelletti
Ingredients: Enriched Wheat Flour Bleached (Flour, Malted Barley Flour, Niacin, Reduced Iron, Thiamine Mononitrate, Riboflavin, Folic Acid), Raisins, Sugar, Wheat Bran, Soybean Oil, Dry Honey, Wheat Starch, Soy Flour, Dry Whey, Leavening (Baking Soda), Honey, High Fructose Corn Syrup, Nonfat Milk Solids, Dry Egg Whites, Cinnamon, Salt, Nonfat Dry Milk, Corn Syrup, Calcium Propionate (As preservative), Soy Lecithin, Calcium Stearate, Silicon Dioxide, Citric Acid. This product contains wheat, milk, eggs, soy and may contain traces of nuts.
Very good muffins
These muffins are very easy to make, better tasting than store bought, more raisins, and at a better price.
Delicious and filling!
Great flavor and just one of these muffins will fill you up!
Easy and delicious
I decrease the water and add applesauce and cinnamn. My hubby favorite
Easy to bake and delicious
I've tried other bran muffin mixes and have found that some are very tasty, but none are as easy to mix and bake as Prepared Pantry cinnamon raisin muffins.k