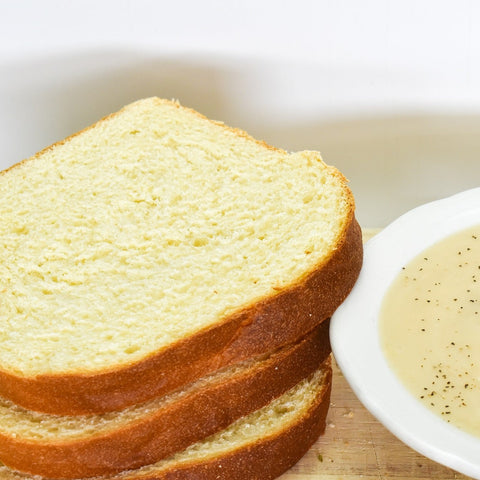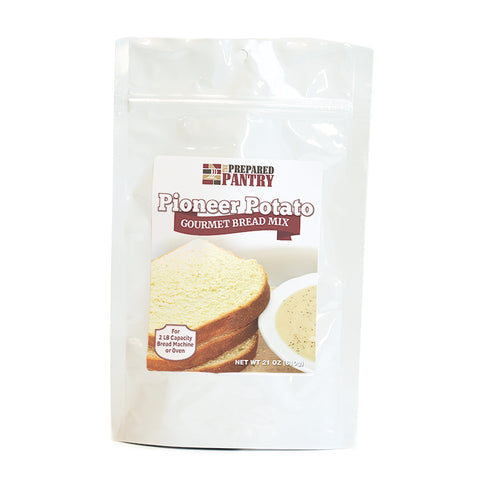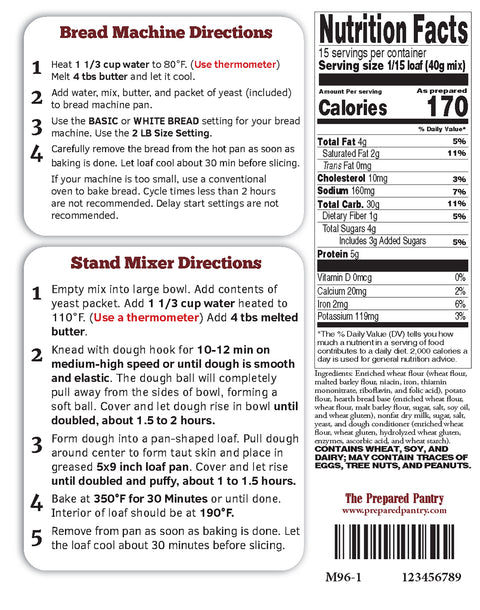 The Prepared Pantry
Pioneer Potato Bread Mix
Make this with your bread machine, stand-type mixer, or by hand.
Frequently Asked Questions
Delicious, soft white bread with a fine crumb. Great for soup or sandwiches
Kids love it
Makes perfect bread in all popular 1 1/2 to 2-pound bread machines--or in your oven.

SAF gourmet yeast packet inside.
Directions and tips for perfect bread are included. You can make this bread in your bread machine, by hand, or with a stand-type mixer.
What makes a potato bread - this bread - so good?
Potato flour adds a mild, tangy flavor to bread, almost like sourdough. This bread is not intensely flavored like San Francisco sourdough--more like the gentle sour taste of European country breads.
Potato flour doesn't form gluten like wheat flour does. So it has a finer texture, a polished more sophisticated crumb without the large holes of most homemade breads.
Potato flour keeps the bread moist and soft. It's called hygroscopic--it draws moisture from the air rather than drying out as pure wheat bread does. It's still predominately wheat flour, and it will dry out, but it stays moist and soft longer.
"Yum! I love the option to use my bread machine. Bread is as good as or even better than what I can make myself - and with less work. 
Marilyn Merrill
Delicious
The potato bread is delicious and soft…it has a fine crumb, and is easy to slice.
Pioneer Potato White Bread Mix
Rating for 2 try's.
Such a disappointment. I tried a white loaf in my Bosch, and it was like a stone. I just put a wheat loaf in my bread machine-added more water than called for, and it mixed up like a rock in the middle of the pan. I really wanted this to work!! Sad!!!
Potatoe bread
This bread was so good. Very tasty and sift.
Yum!
I love the option to use my bread machine. Bread is as good as or even better than what I can make myself - and with less work. Marilyn64