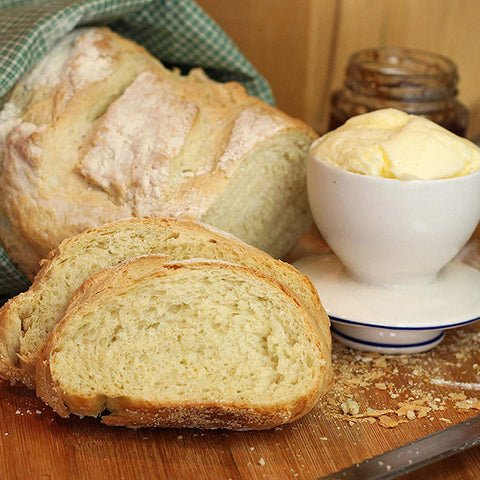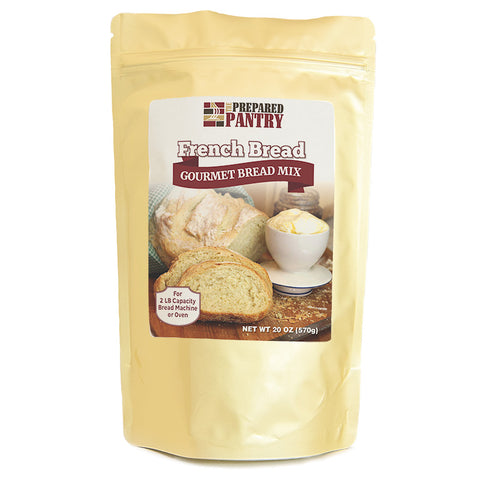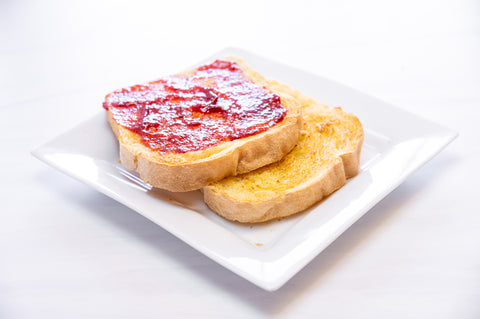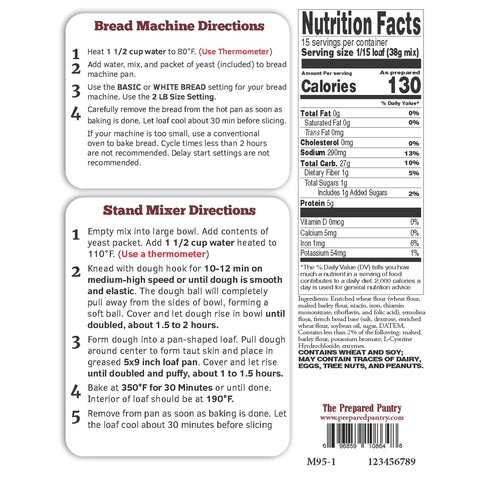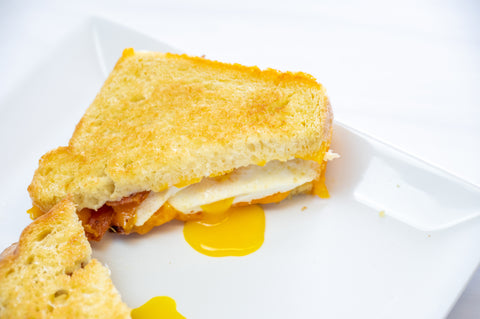 The Prepared Pantry
French Bread Mix
Make this with your bread machine, stand-type mixer, or by hand.
Frequently Asked Questions
Makes 1 large loaf

Makes perfect bread in all popular 1 1/2 to 2-pound bread machines.
SAF yeast packet included!
Directions and tips for perfect bread are included.
Use a thermometer to check the water temperature, and we guarantee your bread will work.
It's easy to make wonderful French bread--even if you've never baked bread before! All you add is water.
You'll make amazing bread with an authentic French bread taste and with a crisp, chewy crust. It's like a trip to the bakery, but it will be yours, and it's fresh.
It doesn't matter whether you use your bread machine or your stand-type mixer and bake it in the oven. You can bake it in a loaf pan or on a baking sheet. It doesn't even matter how you shape the loaf--round or long or whatever. It all comes out as a crusty French bread with a soft interior.
"Fantastic! The instructions were very easy to follow. This was my second time making bread. The Prepared Pantry mix is virtually foolproof. I used my Kitchen Aid mixer and my oven. The bread was melt in your mouth delicious."  Robin
"My favorite French Bread. SO easy to make and even easier to eat. Delicious in every way and is always the perfect loaf. I have made multiple orders for this French Bread and will always come back for more."  

 
"Prepared Pantry makes bread baking way too easy! This bread (like every mix from Prepared Pantry) is excellent. Crusty on the outside, and soft n chewy on the inside. Bring on the butter - I'm outta here!"  

 
We guarantee this will be as good as the neighborhood bakery. Your family will love it. 
Stock up your pantry. No more trips to the store!
goes w/everything
Well, nearly everything. Company love it, makes great French toast, great sandwiches.
french bread
I like it but in the bread maker it get done. And the come out lumpey
Always the best!
We love the French bread mix, as well as a number of other mixes! The quality of the bread that this mix makes is very good as well as being consistent each time I buy one. Good work!!!!
Easy and quick loaf of bread!
So easy to throw into the breadmaker and press start. Makes a large, delicious load of bread with no measuring of dry ingredients required!