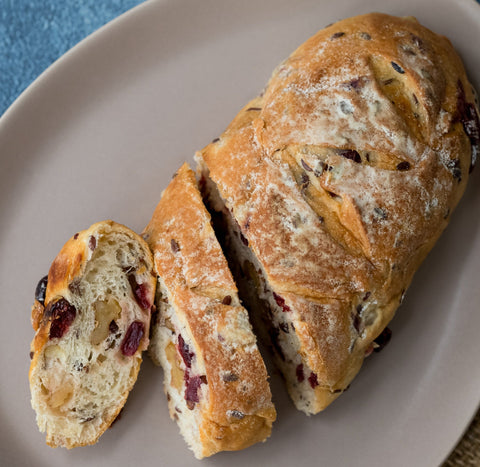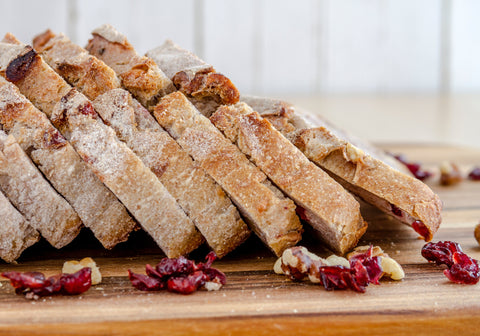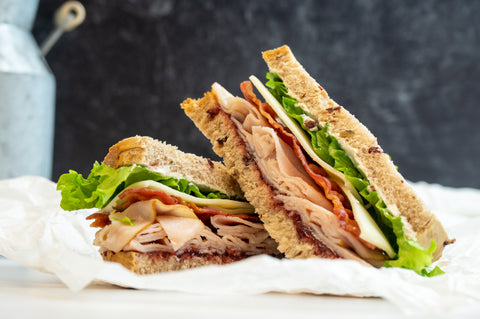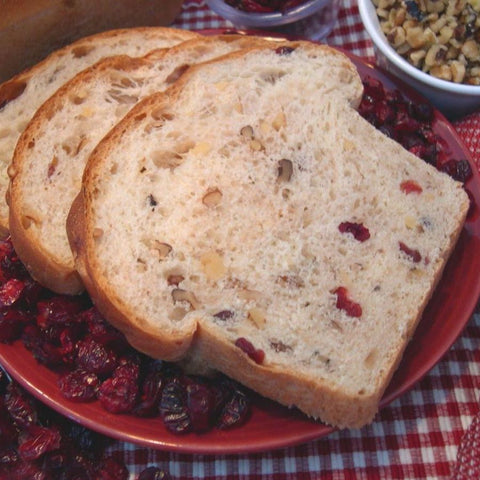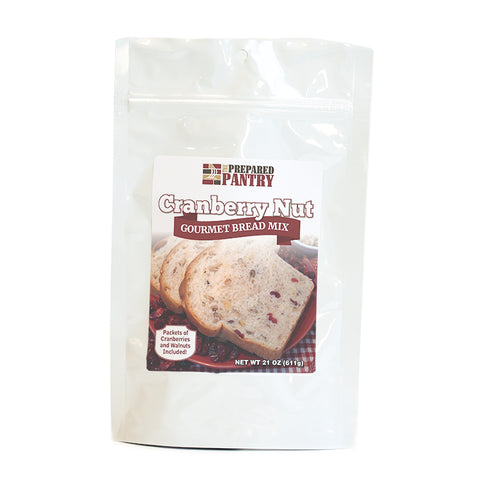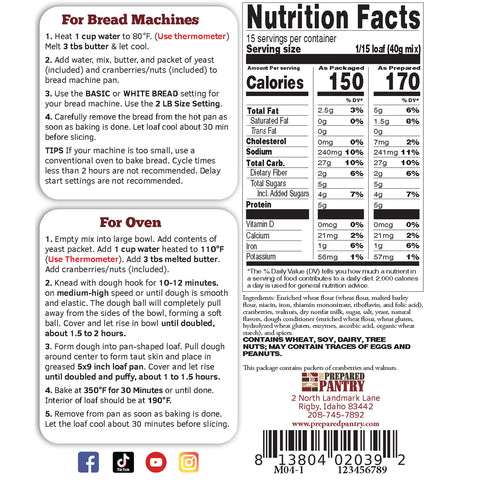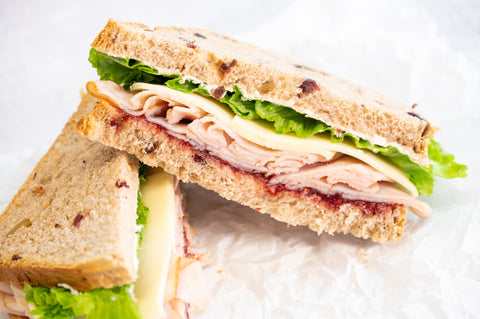 The Prepared Pantry
Cranberry Nut Gourmet Bread Mix
Make this with your bread machine, stand-type mixer, or by hand.
Frequently Asked Questions
$5.99
$7.99
you save $2.00
"Outstanding!" "Amazing bread!" "The best!"
Built on freshly packed fruit and nuts, not added flavor.

Made with 2/3 cup cranberries, 1/2 cup nuts, and a touch of orange

"Subtle sweetness of the cranberries balances with the walnuts."
Great for toasting, with butter and maybe with a little cinnamon sugar

Not too sweet but super with turkey sandwiches
"Nice slice with a cup of tea"
Makes a tall, 31-ounce loaf

This is a phenomenal bread! It's slightly sweet, but it's the fruit that makes it sweet, which means that it delivers a lot of flavor. You'll taste the cranberries in every bite. 
And you'll catch the crunch of the walnuts in every bite. Cranberries and walnuts are a perfect pair.
It makes incredible roast turkey sandwiches. But that's obvious.  Kami in our kitchen discovered bacon and cranberries. She cooked the bacon crisp so that the crisp from the bacon melded with the crunch of the walnuts for a super crunchy sandwich. She did everything from BLT's to soft, mellow Harvarti cheese sandwiches.
There's no wrong way to use this bread.  Get a loaf just for French toast.  That's a wonderful way to use your bread. We're particularly fond of cranapple French toast and maple nut French toast.
See what others say: 
"Most breads never add the walnuts, but these folks do, and it's incredible. Moist, tender, and filled with delicious cranberries and walnuts."   Beth Robert 
"Delicious. My daughter LOVES the Cranberry Nut bread. She will eat a whole loaf in a couple of days."  

 
"Better than expected. We LOVE this bread!"
To make this artisan bread, the freestanding loaf you see here.
To make this with your bread machine, set your bread machine to the dough setting (#8 on most machines). Take your dough from the bread machine, form a loaf (it doesn't need to be perfect), and place it on a greased baking sheet. Cover it with plastic wrap or use a proofing bag. Let it rise until puffy and doubled, about an hour. Bake it at 350 degrees or until the internal temperature reaches 190 degrees using the probe on your kitchen thermometer.
Enjoy the rich taste of walnuts and the tang of cranberries in this wonderful country cranberry nut bread.
We guarantee that you will enjoy this bread. You'll love it for breakfast, as a sandwich, or as a delightful snack. For a delightful breakfast treat, try it toasted and spread with cream cheese. This is a very festive bread!
"Delicious! We eat it for breakfast with a little butter and cinnamon sugar on top, yum!"  -Rhonda Williams
The nuts are packed separately. Because nuts can become stale, please make this bread within six months.
If you make this bread in your bread machine, water temperature is critical. Please use a thermometer to measure water at exactly 80 degrees..
This is an extraordinary celebration bread. Please enjoy it with your family.

great breakfast bread
This is a great bread for toasting. Hopefully PP will continue to sell it. Lately they have discontinued several of my favorite items.
Delicious
My daughter LOVES the Cranberry Nut bread. She will eat a whole loaf in a couple of days. It's delicious with butter and a sprinkling of cinnamon sugar!
instructions need to be updated
The nuts and cranberries did not fall into the mix, so the bread and cranberries and nuts did not mix. Please include in the instructions to make sure that the nuts and cranberries are pushed down while the bread is mixing.
Delicious
Very moist , plenty of ingredients, wonderful flavor.