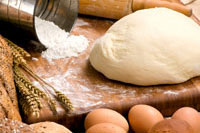 The Prepared Pantry
Sour Cream Powder 1 lb
The Rich Taste of Sour Cream in the Convenience of a Powder.
While this is a great product for baking, it does not reconstitute well for table use.
Use this sour cream powder in your baking and cooking for the rich taste of sour cream in the convenience of a powder.
For rich sour cream bread, rolls, and muffins, add the powder to the dough or batter just as you would dry milk. There is no need to reconstitute it. It gives the tang of sour cream to your baked goods. Because it is acidic, it reacts with baking soda as a leavening agent to make products rise more.
Add this sour cream to your casseroles and main dishes just as you would fresh sour cream.
Take some to the cabin or stash some in the RV.
Mix this sour cream powder with water to make a creamy sauce the consistency of fresh dairy sour cream.
Store some in the pantry as a back up to fresh sour cream.
This is a large economy sized package, approximately four cups of powder. This is the best, longest lasting sour cream powder we can buy. We package it in zipper-type bags for your convenience. If you are not going to use it within a year, we recommend that you store it in mylar or freeze it.
Ingredients: Cultured sour cream. This product is packaged with equipment used in the packaging of baking mixes and may contain traces of soy, eggs, wheat or nuts.
I think it's great will
I think it's great will be purchasing more!!