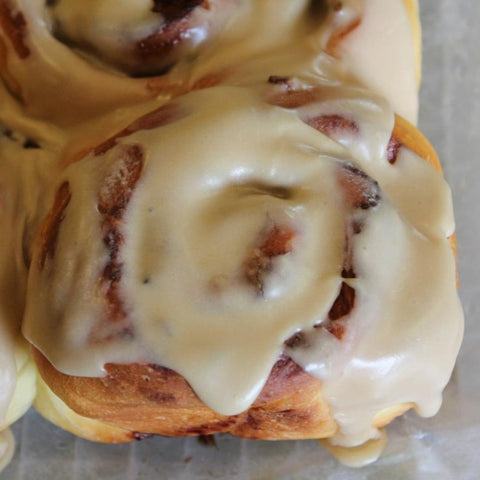 The Prepared Pantry
Maple Bacon Cinnamon Roll Mix
Your family will go nuts over your Maple Bacon Cinnamon Rolls.
They're light, airy cinnamon rolls with sugar, cinnamon, and bacon in the filling. And they turn out great!
There's lots of bacon in these cinnamon rolls all topped with maple frosting. It's a bacon lover's delight. This is a big ol' bunch of the best cinnamon rolls on the planet. Your family will go nuts over them. Take them to a party and you're a celebrity.
The mix includes what you need for the rolls and the frosting. You'll need to provide your own bacon. Fry and crumble the bacon and spread the bacon over the dough and the filling before rolling it up pinwheel fashion. Comes with complete instructions.
Makes a 9 x 13-inch pan of rolls that are two to three inches high
Detailed instructions make it easy, even if you've never baked cinnamon rolls before.
Soft, moist, fluffy texture.
Proven and foolproof
Make them by hand or with your stand-type mixer.
You add butter, water, and bacon.
Maple Bacon Cinnamon Roll Mix - Bring your own bacon
I find this blatantly insulting. There's marketing and there's bait and switch.
Not happy. I haven't made the rolls yet, but I expect them to be delicious.
Review
My husband loves these. He took some to work with him and handed them out to coworkers and they went nuts.