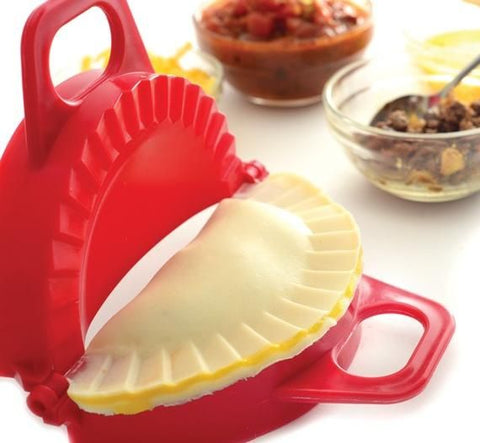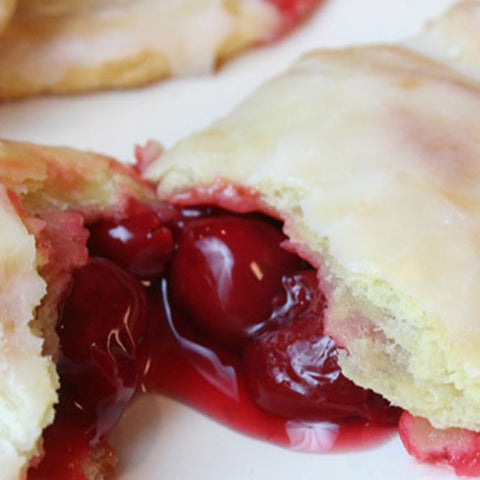 Norpro
Large Dough Press
Look what you can make--treats and quick meals!
Look what you can make with a dough press!
You can make meals, desserts, and snacks. You can make little pies, calzones, piroshki, and pocket sandwiches.  There are so many fun things you can fill them with.
For the crust (or shell), you'll need either pizza dough or pie crust dough.  Then it's easy: roll the dough, use the back of the press to cut circles, fill the press cavity, and fold and seal your little pie.  
Here are some recipes to get you started:  Classic Beef Piroshki, Fried Apple Pies, and Little Cherry Pies.

Classic  Beef Piroshki 
In America, these are pizza pockets or calzones. In Eastern Europe and Central Asia, they're street food of which this recipe is typical. In Iran, they are filled with meat and potatoes. In Sweden, they're made with donut dough and filled with a pastry filling. 
We lived in Minnesota.  In the northern iron mines, miners packed these in their lunches and called them pasties.  
Use this recipe as a starting point and create whatever your family will love.  You can use tomato sauce for your calzones. 

Ingredients:
1 pizza mix
1 pound ground beef
1 large onion, finely chopped
1 tablespoon flour
1/2 cup water or broth
3 tablespoons sour cream
2 hard-boiled eggs, chopped
3 tablespoons fresh dill, chopped
salt
black pepper
1 egg, lightly beaten, for glazing
Directions
Brown the meat in a skillet. Add the onion and sauté for ten minutes or until the meat and onion are cooked.
Sprinkle flour over the meat mixture and continue cooking for one more minute to gelatinize the flour. Add the water to create an in-the-pan sauce.
Add the sour cream, stir to blend, and then remove from the heat. Add the chopped eggs, dill, salt, and pepper to taste. Set aside.
To assemble and bake the piroshki
Preheat the oven to 375 degrees.
Roll the dough out on a floured counter to a thickness of 1/4-inch. Cut the dough into 6-inch rounds using the back of your dough press.
Place a round in the floured dough press. Place three tablespoons of the filling on the round. Close the dough press firmly to seal the edges of the pastry. Continue with the rest of the rounds and filling.
Place the completed piroshki on a greased baking sheet. Poke a few holes in the piroshki with the tines of a fork to vent the piroshki. Brush with a beaten egg.
Bake for 20 minutes or until they are golden brown.
Fried Apple Pies
These are made with a pie crust, are crispy and flakey, and absolutely delectable.
Make the filling from scratch or use a premade apple pastry filling. The premade filling is not expensive and is perfect for these little pies. It's also much more convenient and tastes just as great.
The Apple Pie Filling Recipe (in place of the premade filling)
2 cups diced apple pieces (diced into 1/4-inch pieces)
1 tablespoon lemon juice
3 cups water
1 1/2 tablespoons flour
1 cup sugar
2 tablespoons butter
1 teaspoon cinnamon
1/8 teaspoon allspice
1/8 teaspoon ground cloves
In a medium bowl, mix the apples, lemon juice, water, flour, and sugar together. Melt the butter in the microwave. Stir in the spices and the butter and let the filling cook for another couple of minutes. Set the filling aside.
The Crust Recipe
Ingredients
4 cups all-purpose flour
2 tablespoons sugar
2 teaspoons salt
12 tablespoons very cold butter
3/4 cup very cold water
Directions
Mix the flour, sugar, and salt together.
Cut the butter into the flour mixture with a pastry blender until the mixture is granular.
Add the cold water and mix with a fork until the dough begins to come together. Remove the dough to the counter and knead it just until you have a dough ball.
Cooking Instructions
Assemble them using the instructions for piroshki above.  


Heat three inches of vegetable oil until hot, about 355 degrees. Slip the pastries into the hot oil one or two at a time allowing the temperature of the oil to recover after each. Let them cook for eight to ten minutes or until golden-colored.

Remove them to a plate covered with paper towels. Serve them hot or cold.

Little Handheld Chubby Cherry Pies
We've made sweet treats more than savory with our dough presses.  To us, they are "handheld pies." They're easy, fun, and delicious.
Our favorites are made with Chubby Cherry Filling.
You'll need some pie crust.  Use the back of the dough press to cut out circles. Place the circles in the press, fill the cupped area with cherry filling and fold the press to seal the edges. 

We glaze our little pies with a thin powdered sugar icing. Flavor the icing with vanilla, almond, or lemon flavoring.
Press those pies
I love it. Gonna make hand pies with it.
I have not used it yet. But I will
Awesome!!
Haven't gotten to use this item yet, but we are so excited to try it. All of the breads we have purchased is amazing!!
Review
It doesn't matter what I purchase from the Prepared Pantry, I love it. I have never been dissatisfied with anything. Thank you for being a part of our lives. You have made so many lives so much easier. You are fabulous
Review
I have not used it yet. It appears well made.