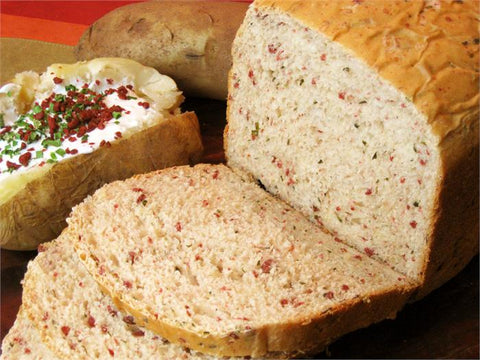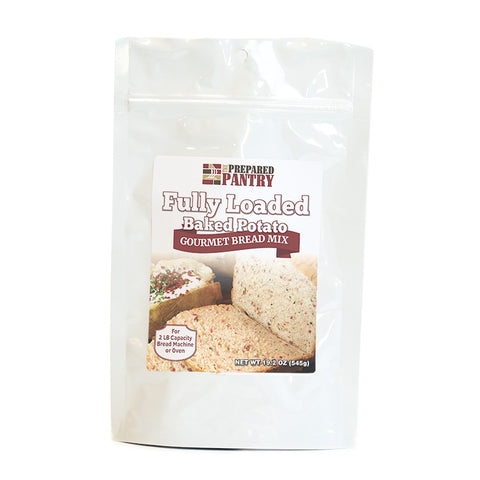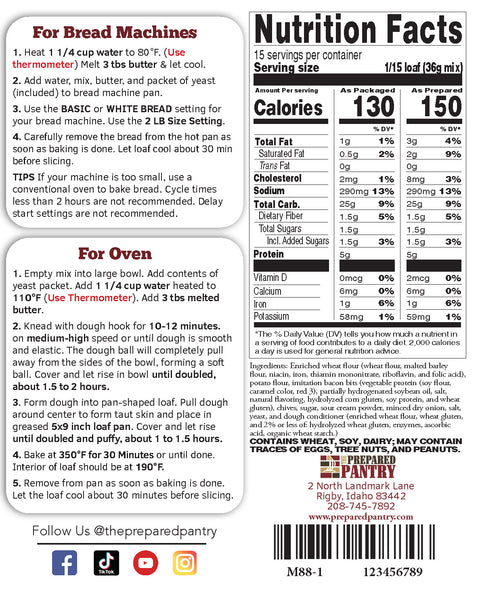 The Prepared Pantry
Fully Loaded Baked Potato Bread Mix
Make this with your bread machine, stand-type mixer, or by hand.
Frequently Asked Questions
This is a really fun, cool bread.
Potato breads are moist, soft, and flavorful. But when you add sour cream, chives, and bacon bits--then you have a really great bread.
This makes an outstanding sandwich bread. The flavors are not overwhelming so it also makes a nice accompaniment to a meal. We especially like it with soup or salad. Our testers raved over this bread. We handed out samples at our store and people loved it. You can really impress your family and friends with this bread. All you add is water and butter.
Makes a large loaf--nearly two pounds
SAF yeast packet included!
Makes perfect bread in all popular 1 1/2 to 2-pound bread machines--or in the oven.
Guaranteed success! Use a thermometer to check the water temperature, and we guarantee your breads will work.
I think the directions could increase the amount of water added to the mix for a loftier loaf.
Wow Really Surprised
Wow what a great tasting bread! Not one that you would eat regularly, but excellent for Bacon, Ham and Turkey Sandwiches after the holiday leftovers and making weekends specials! My husband thought he would not like it and we both say it is one of the best tasting the Prepared Pantry has to offer.
disappearing bread
We don't normally keep bread in the house. This fully loaded baked potato bread is the reason why. Within 2 days of making it, it was gone. We can't leave it alone. yummalicious.
Best company and best bread EVER!!!
I just love everything I have ever purchased. Shipping is quick and customer service is the best I have dealt with. Family owned business definately makes the difference. Excellent!!!
Fully Loaded Baked Potato.
This bread has a wonderful flavor, and is almost a whole meal in itself