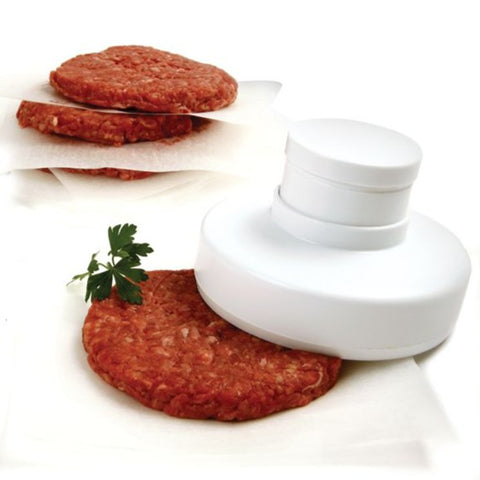 Norpro
Burger Buddy Hamburger Press
$4.99
$7.99
you save $3.00


Make unbelievably good burgers every time with a burger press.
Make precision burgers, exactly the same every time.   
You control how compressed your burgers are. You want them gently pressed, just firm enough that they hold together. That way, they're nice and juicy. Too hard, and they're hockey pucks.
You make them uniformly thick so that they cook evenly.
You control the size. They are just right for the bun, and you can make each burger a quarter, a third, or a half-pound.
When your family or friends come over, you want your burgers just right, unforgettably good.
You want a burger that holds together, and doesn't break up in your pan or when you try to eat it. You want a burger that is tender and juicy and cooked just right. A Burger Buddy makes a better burger:
With this tool, you'll make perfect, uniform patties every time. They taste better; they even look better.
Put a mound of ground meat on a sheet of plastic wrap or waxed paper. Push down with the press just enough to force the meat to the edges of the press. Lift up and push the center plunger to release the patty. A uniform meat patty will drop on the plastic wrap.
Each patty will be four inches in diameter. A 3/8-inch thick patty will weigh 1/4 pound. A 1/2-inch thick patty will weigh 1/3 pound.
Use your Burger Buddy Press to make uniform burgers formed and compressed just right, cooked just right, the same every time.
Unforgettably good burgers.
Flimsy plastic but it works
Press on.
It worked fine. Made a nice uniform patty.
Hamburger Press
I love it! No more messy hands. The burgers come out perfect.
An awesome kitchen tool!
I love this burger press and it makes life a lot easier for me and my wife! Thank you!!
Burger buddy
I thought it was kinda cheap but it will work