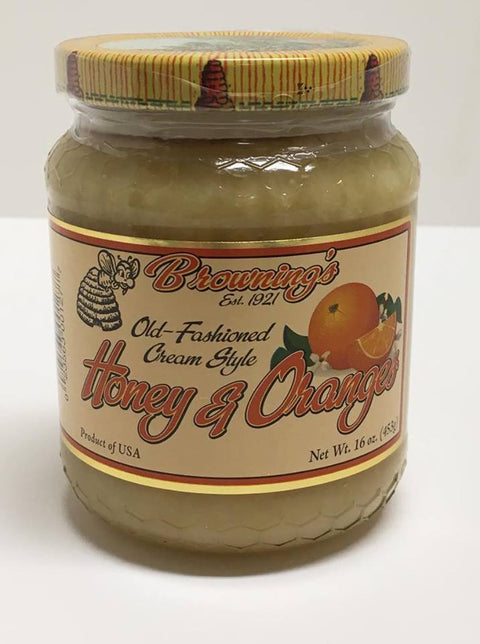 Browning's Honey
Browning's Old-Fashioned Cream Style Honey & Oranges 16 oz
Naturally gluten free with all natural flavors
Plenty of all-natural orange flavor perfect for toast, biscuits, rolls and sandwiches
Beautiful cream color that is delightful on any table
Cream-style Rocky Mountain honey, pure and easy to spread
Beautiful honeycomb jars that are perfect for gift-giving
Each large, attractive glass jar contains 16 ounces of premium honey.
Ingredients: Pure honey, natural flavor, color. No preservatives added.
The best honey you will ever eat! If you have a Whole Foods, go buy a loaf of country French sliced($3.00)& toast it for breakfast with Browning's orange honey & experience a bit of heaven to start your day!
Honey with a Orange taste
I really enjoyed your orange honey. It was something different. I use a lot of honey so tasting something with orange favor I really like it.
Love them all!!
Have used breads, jams/jellies and syrups. Love them all as do my grandchildren. Thank you!!