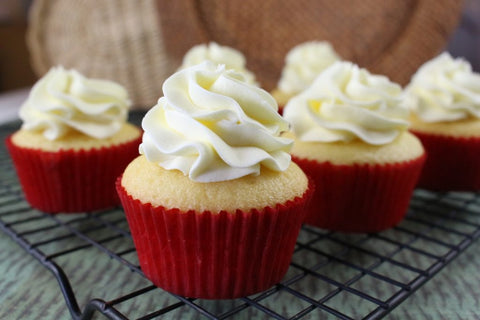 The Prepared Pantry
500 Professional Red Glassine Paper Baking Cup Liners
Nutritional information

Total Fat 0g, 0%
Saturated Fat 0g, 0%
- Trans Fat 0g
Cholesterol 0mg, 0%
Total Carbohydrate 32g, 11%
- Dietary Fiber 4g, 14%
- Total Sugars 3g
-- Added Sugars 2g, 3%
Protein 6g

Vitamin D 0mcg, 0%
Calcium 12mg, 1%
Iron 1mg, 7%
Potassium 60mg, 1%
Ingredients: Enriched wheat flour (wheat flour, malted barley flour, niacin, iron, thiamin mononitrate, riboflavin, and folic acid), sourdough bread base (wheat flour, salt, cornstarch, fumaric acid, lactic acid)
Try the professional cupcake and muffin liners the pros use.
These are better quality than those at the grocery store at an amazing price!
We use these in our test kitchen. They're a pretty red, the glassine paper coating helps repel grease, and they cost a lot less. They come in a plain brown wrapper but who cares.
If you make a lot of cupcakes or muffins, get these.
500 count professional glassine coated baking liners.
Standard cupcake size (2" x 1 1/2")
Save money and get better paper liners--the ones the pros use.
Happy Baker
So pleased with these baking cup liners! They actually cling to the cupcakes till they need to be removed before eating; this makes for a beautiful and neat presentation. Great quality, Thank You!
500 Professional Red Glassine Paper Baking Cup Liners
So-So+ Liners
These liners need to be sprayed to prevent sticking, but when peeled off, they do not tear. They are not too thin and not too thick. I thought their name, "glassine," meant that they were better than avarage, but they are average. The price is good, so that makes up for being average otherwise. The red color is pretty and perfect for Christmas and Valentines. Since there are 500, they will also look great on Independence Day. Everything considered, they are a smidgen better than average!