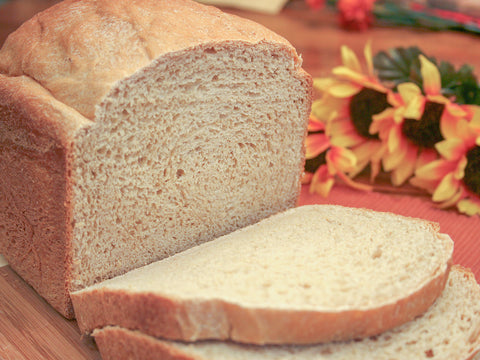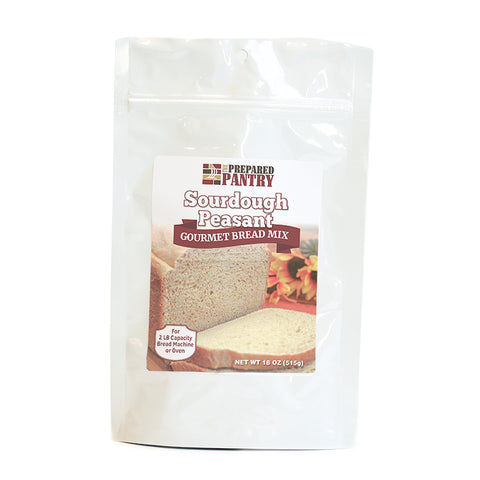 The Prepared Pantry
Sourdough Peasant Gourmet Bread Mix
Make this with your bread machine, stand-type mixer, or by hand.
Frequently Asked Questions
Try this heritage bread, a flavorful sourdough peasant bread made with wholesome whole wheat flour.
Refined flours and instant yeasts are modern niceties. (Instant yeast wasn't available until the 1940's.) Our grandparents made wonderful, wholesome breads with whole grains and sourdough starter recipes that they brought over from the old country. This bread captures the essence of those breads of yesteryear a moist, nutty flavored bread with the tang of sourdough. This is a very good and a very different bread that you can make in your bread machine or oven.
SAF yeast packet is enclosed. You provide only water.
Directions and tips for perfect bread are included.
You can make this bread mix in your bread machine, by hand, or with a stand-type mixer.
This package contains one bread mix that makes 1 large loaf.
This is a very moist, tangy bread with a moderately chewy crust. This bread is distinctive and so good your family and friends won't believe that you baked it. Don't miss it.
Add this tangy, moist bread to your cart.
Tastes Great!
A fine bread that makes great sandwiches.
To dense but makes great toast.
Great bread
This is really good bread and easy to make. No need to buy bread from the store when you have good bread like this.
Prepared Pantry Bread Machine Mixes
All of the machine mixes I've purchased and made were easy and delicious. By far, better than any mix available on the market. I will continue to try the different mixes available from Prepared Pantry as well as making my favorite Sour Dough breads to eat and share with enthusiastic friends!