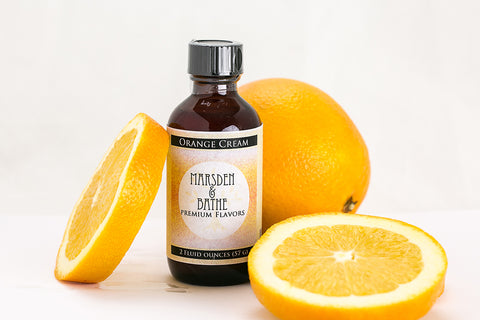 The Prepared Pantry
Marsden & Bathe Orange Cream Flavor 2 oz
Remember those orange cream ice cream popsicles?
Here they are again but now you can make them into cakes, or cookies, or cupcakes.
The flavor and the color are right on--a very orange and vanilla combination.
It's a flavor and color combined. And it's really cool! When you get enough color in your frosting to be right on that old novelty orange color, the flavor is right on too. It's pretty amazing. And it's not just the kids that love these; parents go nuts over them too.
Commercial strength natural and artificial flavor--more concentrated therefore more economical that "store" flavors.
Produced by a US company with over 100 years experience in flavors.
Comes in a dark glass bottle to protect the delicate flavors from light.
Marsden and Bathe flavors are generally used in bakeries and fine restaurants by pastry chefs and are not generally available to consumers. See if they are not better than grocery store flavors.
Ingredients: water, propylene glycol, yellow #6, modified food starch, xanthum gum, citric acid and sodium benzoate. This product is packaged with equipment that is used in the production of baking mixes and may contain traces of soy, dairy, wheat, tree nuts, peanuts, or eggs.
Smells amazing!
It smells amazing and added incredible flavor to the bread I was making. :)