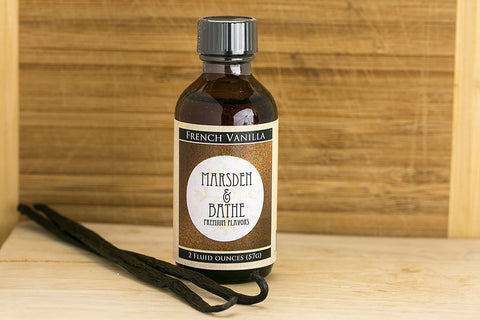 The Prepared Pantry
Marsden & Bathe French Vanilla 2 oz. See Serving Suggestions
Everyone Loves Birthday Cake Vanilla!
Vanilla is the canvas upon which the baker creates his or her art. French Vanilla makes another excellent canvas. It's a popular flavor in cakes and ice cream. It makes fantastic whipped cream.
Commercial strength natural and artificial flavor--more concentrated therefore more economical that "store" flavors.
A sweet flavor profile that is sweet, smooth, and a little like custard.
Compliments fruits well, especially berries.
Perfect with shakes, cheesecakes, nuts, and chocolate.
Produced by a US company with over 100 years experience in flavors.
Comes in a dark glass bottle to protect the delicate flavors from light.
Marsden and Bathe flavors are generally used in bakeries and fine restaurants by pastry chefs and are not generally available to consumers. See if they are not better than grocery store flavors. They're 100% guaranteed! If you are not delighted, we'll give you your money back. French vanilla makes delightful whipped cream.
Marsden & Bathe French Vanilla 2 oz. See Serving Suggestions
BIG BANG...in a single drop!
This is one of the best vanillas that I have worked with.
Because of its concentration...a little goes a long way!
So, be careful. There is such thing as, too much of a good thing.
I find that a few drops, to a 1/2 tsp is plenty for most jobs.
And Remember: the vanilla is not sweet, no matter what your nose tells you. In fact...taste the vanilla straight, just from the tip of your finger. It is a good alcohol-base...and obviously, quality vanilla. But...no sweet. So, regulate your sugar accordingly.
FOR FUN: during summer...put a drop of this incredible French vanilla on the filter of your air-conditioner. Makes your whole house smell like a bakery!
Best Regards
David S. R. Clark, Administrative Sergeart-Major(ret)
Teton & District Performing Arts Pipe Band and Guard of Honor...and part-time baker!
Review
This is great stuff! Smells good and like bakery or box cake my cake does not taste homemade! (MY LITTLE SECRET) SHHH! THANKS PREPARED PANTRY FOR MAKING US BAKERS BETTER IN THE KITCHEN! PLEASE DON'T STOP SELLING THIS. MAYBE HAVING THIS MADE IN OIL FORM WILL HELP USE LESS TOO :)
Review
I still can not live without this in my cakes please prepared pantry continue to always have this this is my secret weapon to my baking thank you Will be purchasing more soon