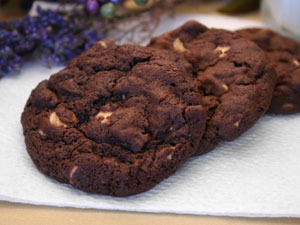 The Prepared Pantry
Chocolate Peanut Butter Chip Cookie Mix
Try these cookies! What a great combination--rich fudgy cookies with over one-half pound of peanut butter chips.
You'll make three to four dozen very good cookies. (Butter and eggs are not included.)
Get this rich brownie-like cookie loaded with premium imported peanut butter chips. This is a dark, brownie-like cookie that you and your kids will love. With over one-half pound gourmet peanut butter chips, it has to be good. Don't miss these cookies.
Always on time & always fresh products
Delicious!
These are a great balance between chocolate and peanut butter. They're sweet without being TOO sweet. So good. Because there are just three of us in our household, we wouldn't get through this many cookies before they got dried out (assuming we exercise any self-control). For fresh baked cookies any time I have bags of 6 cookie sized raw dough balls in the freezer. If I remember to thaw the dough in advance, the baking time doesn't need to be adjusted. If they're straight out of the freezer (let's be real, they're always straight out of the freezer), 350 for 11 minutes is just right. Buy these. Make the dough. Bake it all or bake a little and freeze the rest. However you do it, just do it.
Review
Sinfully soft, fudge cookies with peanut butter chips! These are so addictive and awesome they could almost be a brownie cookie. We love these so much! A very popular one during our holidays.