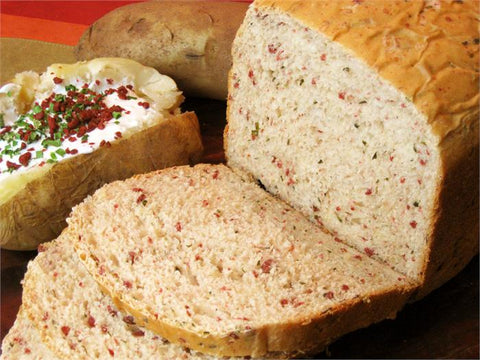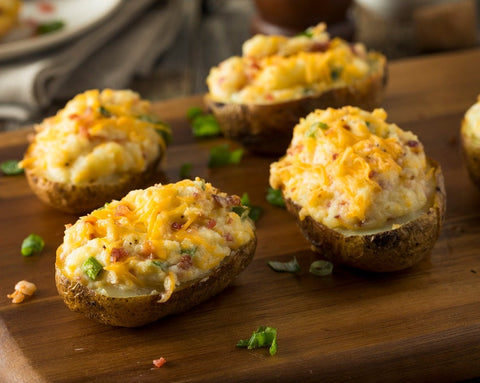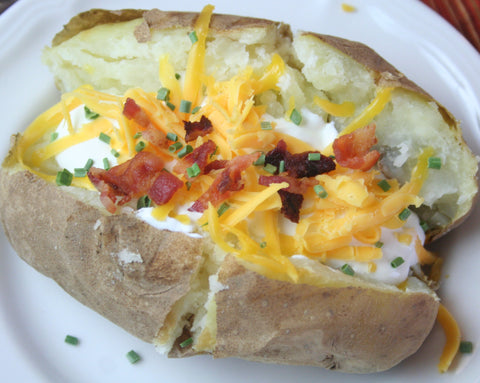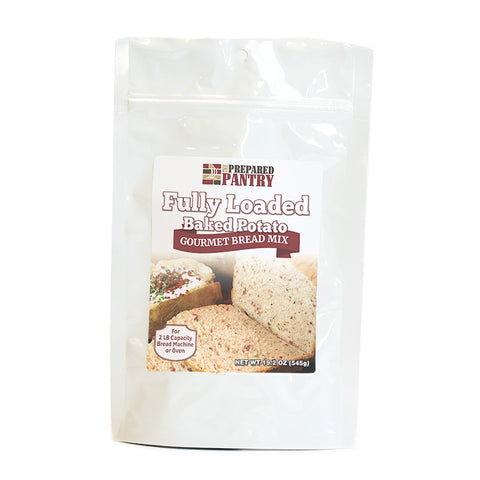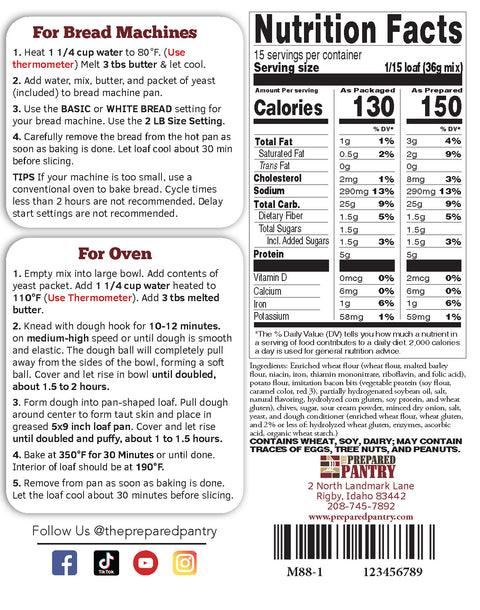 The Prepared Pantry
Fully Loaded Baked Potato Bread Mix
See how to make twice-baked potatoes with variations.
Frequently Asked Questions
(See recipes below)
Makes a large loaf--nearly two pounds
SAF yeast packet included!
Makes perfect bread in all popular 1 1/2 to 2-pound bread machines--or in the oven.
Guaranteed success! Use a thermometer to check the water temperature, and we guarantee your breads will work. 


This is a really fun, cool bread.
Potato breads are moist, soft, and flavorful. But when you add sour cream, chives, and bacon bits--then you have a really great bread.
"This bread is fantastic! Our favorite thing to do is make a grilled cheese sandwich with it. It's wonderful and so easy. Pretty much foolproof!"  
Amy
"Fabulous flavor. My family absolutely loved this flavorful bread. What a treat this was. It did taste like a baked potato. I've never had anything like it and I'm a bread lover. I want to take it to every family gathering."

"This is the most amazing bread! Wonderful warm with butter, but over-the-top tasty as a hot beef sandwich. Held up nicely with the gravy...yum!"  Denise
This makes an outstanding sandwich bread. The flavors are not overwhelming, so it also makes a nice accompaniment to a meal. We especially like it with soup or salad.
Impress your family and friends with this bread. This is an amazing bread.
Nine Ways to Make Twice Baked Potatoes
Twice baked potatoes are a great way to use up leftover baked potatoes, but they also make a delicious side for a nice dinner. You can make them partially ahead of time with only the final bake left, you can stuff them with your favorite goodies, and they're so much more exciting than your basic baked potato.

How to Make Twice Baked Potatoes
To make twice-baked potatoes, you remove the potato from the potato skin to leave room for adding extra goodies. When you scoop the potatoes from the skins, leave a little flesh next to the skin to provide a sturdier shell.
Potatoes come in different sizes, and people's tastes vary. Add ingredients to taste. If the potato mixture is not flavorful enough, add more sour cream or cream cheese. Make sure that the salt is adequate.
Save time by making your potatoes ahead of time. Bake and fill your potatoes and store them covered in plastic in the fridge. When you're ready to put them in the oven for the final bake, leave the potatoes in for an extra five minutes or so to ensure they're heated through after sitting in the cold fridge overnight.
Basic Twice-Baked Potato Recipe
Ingredients
8 large baking potatoes
1/2-pound bacon (optional)
1 cup milk or cream
2 cups sour cream
1/2 cup butter
1 teaspoon salt
2 cups shredded cheddar cheese
Directions
Preheat oven to 350 degrees.
Select uniformly sized baking potatoes that are free from major blemishes. Scrub and wash the potatoes. Bake them without aluminum foil as you would regular baked potatoes for an hour or until soft. Let them cool for fifteen minutes.
Fry the optional bacon until crisp, let cool, and crumble. If you prefer, cook the bacon in the microwave and snip the bacon into bits with kitchen shears.
Slice the potatoes lengthwise. Scoop the potato flesh from the skins, being careful not to tear the skins. Save the skins. Add the milk or cream, sour cream, butter, salt, one cup of grated cheese, and a desired amount of chopped chives to the potato flesh. Mix with an electric blender until smooth.
Spoon the potato mixture into the potato skins. Top each with the remaining cheese and optional bacon bits. Bake for another 15 minutes or until heated through.
8 Variations on a Twice Baked Potato
Whether you mix the potato filling with butter and sour cream like mashed potatoes or layer your goodies on like toppings, there are plenty of ways to stuff your twice-baked potatoes. Use the list below for inspiration or mix your own favorite ingredients and flavors to make a unique twice-baked potato. Choose whatever you and your family love best.
Mix sour cream, bacon bits, and corn kernels with the mashed potatoes.  Top with grated cheddar cheese and sprinkle with paprika.
Mix cream cheese with the mashed potatoes.  Top with chives.
Mix sour cream and finely chopped onions with the mashed potatoes.  Top with asiago cheese.
Mix feta cheese with the mashed potatoes.  Top with chopped onions, sliced olives, and paprika.
Mix cream buttermilk and chopped ham with the mashed potatoes.  Top with cheddar and chives.
Mix cream cheese and bits of smoked salmon with the mashed potatoes.  Top with chives.
Mix sour cream, diced green chilies, and pimentos with the mashed potatoes.  Top with grated cheddar and mozzarella.
Mix grated Swiss cheese with the mashed potatoes.  Top with sautéed mushrooms and more Swiss cheese.
Mix corn, diced green peppers, and sour cream with the mashed potatoes.  Top with chilies and grated cheese.
Mix the mashed potatoes with buttermilk.  Top with broccoli and grated cheddar
sounds yummy
I haven't used this yet, but I will in the next few days. Sounds so good and I hope it tastes as good as it seems.
I think the directions could increase the amount of water added to the mix for a loftier loaf.
Wow Really Surprised
Wow what a great tasting bread! Not one that you would eat regularly, but excellent for Bacon, Ham and Turkey Sandwiches after the holiday leftovers and making weekends specials! My husband thought he would not like it and we both say it is one of the best tasting the Prepared Pantry has to offer.
disappearing bread
We don't normally keep bread in the house. This fully loaded baked potato bread is the reason why. Within 2 days of making it, it was gone. We can't leave it alone. yummalicious.
Best company and best bread EVER!!!
I just love everything I have ever purchased. Shipping is quick and customer service is the best I have dealt with. Family owned business definately makes the difference. Excellent!!!