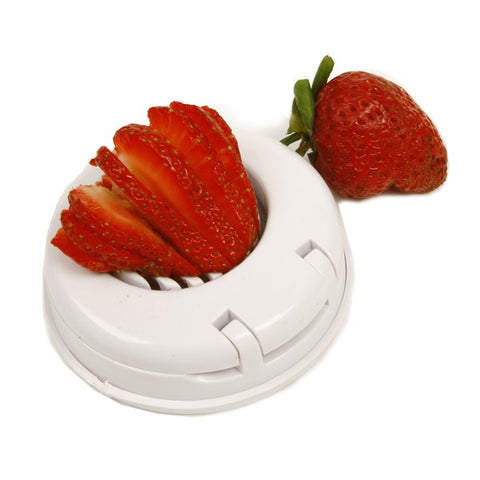 Norpro
Strawberry, Mushroom, and Egg Slicer
See how to make a strawberry pie in 15 minutes!
Cut your prep time in half. Make better-looking, professional desserts.
We use these slicers in our test kitchen all the time. We cut strawberries, mushrooms, eggs, and olives. It's much faster than using a knife and very attractive.
Cut clean and perfect slices every time.

9 uniform slices quickly and easily.
Made of hard white plastic with a non-skid rubber bottom for stability and stainless steel wires.
It cuts your prep time in half and makes a very attractive, professional-looking desserts. 
Give it a try. you'll be delighted with how well it works. 
Just buy it!
We use it for olives too and this slicer is the best around. I have bought several in the last few months from other box stores and they break within the 1st use to the 5th. Said enough is enough and order this good one! So glad I got it again!