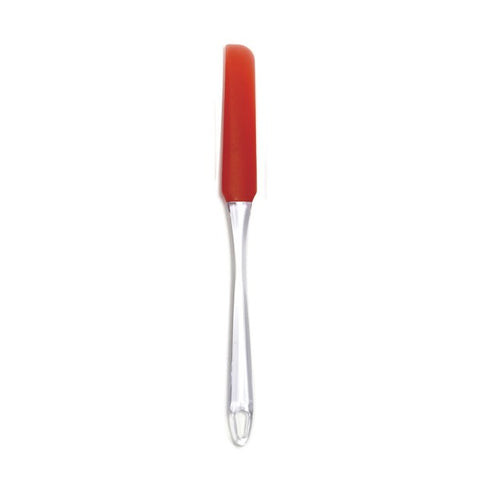 Norpro
Silicone Red Spatula for Baking (Icing)
Protect your bakeware! Use this softsilicone spatula to remove baked goods from your expensive pans! It's flexible so that it follows curves and easily removes bread, muffins, cakes and more. It's soft so that it won't scratch your valuable pans.
It's also great for removing the last dab of mayonnaise or peanut butter from their jars. You'll pay for this tool just in the food saved.
This may be the best investment in your kitchen.
Attractive silver and redconstruction.
Flexible silicone blade for scraping the last bit from a jar or a bowl.
Heat resistant to 400 degrees Fahrenheit.
Superior silicone blade won't stain, lose shape, or retain odor.
A long handle for easy work--10 1/2 inches overall length.
Because you'll save money two ways - by protecting your bakeware and by getting all the food from your jars - you'll use this often. It's a valued addition to your kitchen.
This may be the best investment in your kitchen. Wont ever scratch your pans.
Spatula
I love it use it for getting all the goodie out of the mixing bowl.