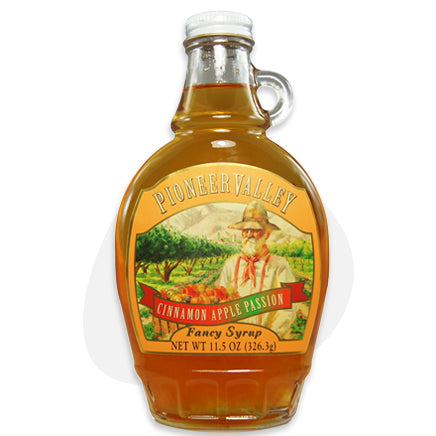 Pioneer Valley
Pioneer Valley Gourmet Cinnamon Apple Passion Syrup
$6.99
$8.69
you save $1.70
Frankly, we went nuts over Cinnamon Apple Passion Syrup.
Pioneer Valley recently introduced this at a food show where it outsold all other syrups. We know why. We think you'll be passionate over this luscious syrup, too.
Don't wait! This shipment will sell out fast.
Try all of our Pioneer Valley gourmet syrups.
Each attractive glass jar contains 11.5 ounces of premium syrup.
You'll love this thick apple syrup with a touch of cinnamon oil and spices. Try it on ice cream, French toast, and more. It's a sweet-tart syrup that is very unusual--unlike any pancake syrup that we have ever tasted.
Review
Best fruit syrups we have found. Prompt service and packaged well.
Syrup
Has a great taste like a apple pie