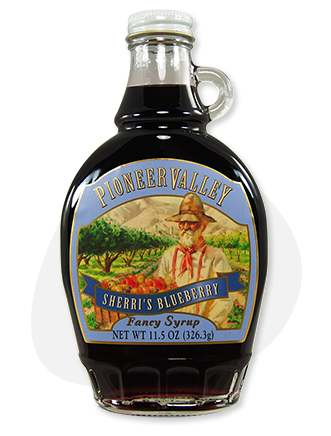 Pioneer Valley
Pioneer Valley Gourmet Blueberry Syrup
What makes this blueberry syrup the best you've ever found?
Try this thick, rich gourmet blueberry syrup made with premium blueberries. It's bright, smooth, and flavorful. It's made in small batches with only the best fresh fruit. There are no fillers or preservatives. It's the perfect addition to your morning pancakes or waffles.
What makes this syrup so good?
First, it's the berries.
Its first quality fruit picked and quickly frozen until it's ready to go into your syrup.
You cant have great syrup without great fruit. And it's not diluted with a bunch of sugar and water.
Second, it's the careful, handcrafted care that a small, family-owned company puts into its products. They know how to make great syrup and they don't cut any corners. Look at the label.
This thick syrup is made with simple fruit sweetened with cane sugar. There are no preservatives, no artificial flavors, and no thickeners. You'll feel good about this syrup.
Each attractive glass jar contains 11.5 ounces of premium blueberry syrup.
Give this syrup a try. If you don't like it as much as we do, we'll give you your money back.
Yum
I love the vanilla cream on my waffles and ice cream
Delicious
This is very delicious with the mountain berry pancakes.
Review
I was totally surprises when I read the "Ingredient Label " to discover that this syrup was all natural. It didn't say "All Natural " the ingredients spoke for themselves. This is indeed a VERY tasty syrup. The price may be a bit steep, but for something that is actually, REALLY all natural (unlike some other things that say all natural and there not), this one is well worth the investment. I would buy more then one, because it Will go fast at your table.