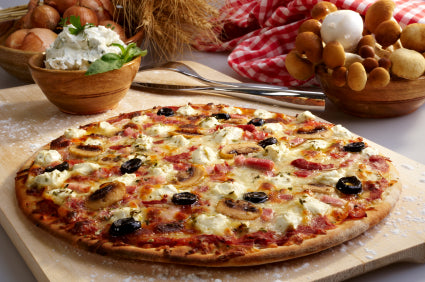 The Prepared Pantry
Perfect Pizza Flour Blend Bulk Pizza Mix 3.15 lb
Here's how to make a restaurant-quality pizza from scratch!
The secret is in the flour!
A professional blend of flours used by the pros.
Perfect for both thin and thick crusts.
Makes a soft, easy-to-use dough without "springback."
Guaranteed. Tested with thousands of pizzas.
Easy-to-use directions included.
This is a professional blend of flours and enhancers just as a fine restaurant would use. it makes a soft, easy dough that you can form into thin or thick-crust pizzas with very little spring back. Roll it as thin as you like.
This is a professional flour blend. It does not include yeast or salt. This blend is made with artisan flours, semolina flour, pizza dough enhancers, and a touch of baking powder for a little extra rise and crispness.
Use this as a bulk pizza mix, measuring out just what you need for a thin or thick crust. It's economical and it's easy. You add only water, oil, salt, and yeast.
"Kids and I made pizza pockets for dinner tonight using this Pizza Mix. Best one I have found! So good! It's easy to make and great to work with. When baked, it comes out light and delicious!!!! I would definitely recommend this to my family & friends."  

Tiffany Dillon
Perfect Pizza Flour Blend Bulk Pizza Mix 3.15 lb
Prepared Pantry came through!
They promised the replacement and I just received them! UPS are the villains in the mess that was sent me. I will continue to buy from Prepared Pantry. Their products are just WONDERFUL!
Have not received my damaged goods yet!
UPS destroyed the box and repacked it with 2 items missing and a 3.5 lb. bag of pizza crust and Strawberry Scones broken inside the box. Talked with a representative of Prepared Pantry, who received pictures of the disaster and they assured me that they would send out the replacements but I have not received an email or any word from the company. This will determine if I continue to order anything else from them. It is not there fault that UPS destroyed the box and stole 2 packages of bread mix from my order BUT I want my items that I paid for.
Review
It was very easy to make, easy to roll out the dough. It was lacking in salt though. It tastes like homemade bread that you forgot to add salt to. Next time I'll try adding a little salt and I bet it'll be perfect!
Review
Your products are the best!