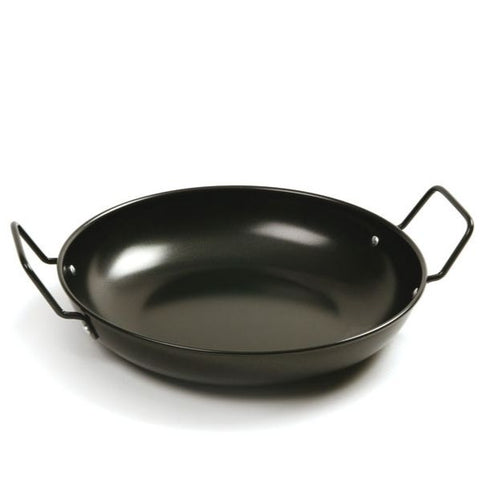 Norpro
Pannekoeken Pan (Nonstick Dutch Baby Pan)
Here's why you should be feeding your family (or guests) pannekoeken.
Your family will absolutely love your breakfasts
You can fill them with fruit or fixings for dinner but most people just add syrup and eat them like pancakes. And it only takes eleven minutes to bake!
And they are so dramatic! This first image--that's taken inside the oven. They're like magic! They rise up, 6 to 9 inches tall. This one is ready to come out of the oven
The next image is on your table. It's 12 to 13-inches in diameter. Cut it into wedges and serve it.
They're quicker and easier than pancakes.
It's a three-ingredient wonder: Mix, milk, and eggs.
For breakfast, just serve them like pancakes--with syrup.
They're different. It's likely that they have never had them before.
They're impressive! Breakfast doesn't do that. You're a magician!
You can make a lot of food for a few dollars. Each mix makes nine of the pannekoeken.
Love the pan
Perfect for making so much.
Easily scratches
This is the perfect pan for the pannaken. However, it scratches very easily. I really have to be careful with the tools used to lift the pancake out of the pan. I've gone through three of them. However, I can't find another pan on the market that works for the pancake as well as this one.
Wonderful Products
Made my first purchase. I'm very impressed with these products. I bought some of the bread products and breakfast ideas. I will order again.
Review
Hi Dennis,I received this pan a few years ago as a birthday gift. It's on of my favorite tools! I like to make a savory pancake and fill it with stir fry, fajitas, and yummy veggie combinations! I've used this for so many things an have always had success!!
Review
Rarely have I felt so strongly about a kitchen product that I've purchased. I LOVE my Pannekoeken Pan! I purchased it initially for the German Pancakes, but found it does much more. We have used it for stir fry and for paella....and much more. My biggest thrill came when I found out it worked well on an induction cook plate. My granddaughters (twins age 9 and their 7 year old sister) use it safely with supervision. The side handles makes it easy for them to help.Since the induction cook plate can be used on the counter top, all can watch and help at the same time. Having them involved in the planning and cooking process makes it easier to incorporate new foods in our meals. The girls are adventuresome and come up with some great ideas. It has been fun for all of us! Thank you for a versatile product - now you need to sell and promote the induction cook plate!