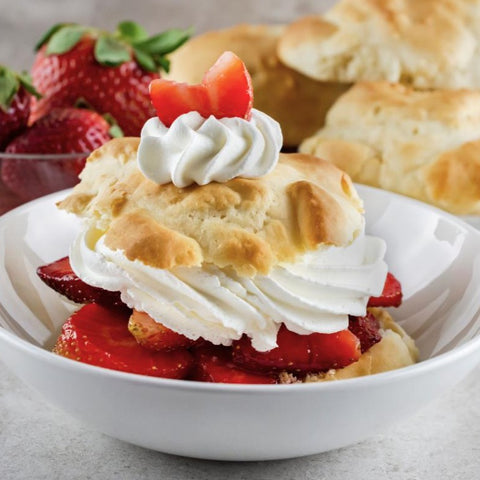 The Prepared Pantry
Meringue Powder for Frosting and Whipped Cream 8 oz. (How to make flavored whipped cream and frosting)
Would you like to make even better cakes, cookies, and desserts?
Add a little meringue powder. It's like magic!
We rarely make cupcakes, whip cream, or frost cookies without using meringue powder. It's a kitchen staple.
Essential for whipped cream frostings, royal icings, and buttercream frostings
Helps whipped cream stay perky and firm for prettier, nicer desserts
Makes frosted cookies with a shell icing that resists marring and are less likely to stick together
Economical--only one or two tablespoons per batch is needed for most recipes
Large 8-ounce resealable package to stay fresher
Your cupcakes are beautiful. But in a warm room, the frosting starts to droop. Most whipped frostings, including buttercream, need to be stabilized to make them more durable. Depending on how stiff you want your frosting to be, two tablespoons will usually do it. For additional stabilizer, add cream cheese, cocoa, or more meringue powder.
Meringue powder,
Love the meringue powder! I can't believe I've never used it before now! What a difference it makes! No more worries with my whipped icings during the summertime!
I love your meringue powder!
I use meringue powder mostly to make royal icing. It has a pleasant flavor with no aftertaste. It's also great for stabilizing whipped cream. I wish I could buy it in bulk!
Review
This is honestly the best Meringue Powder I have found. Others have been gritty and change the consistency of the icing when decorating. This product truly makes a difference.