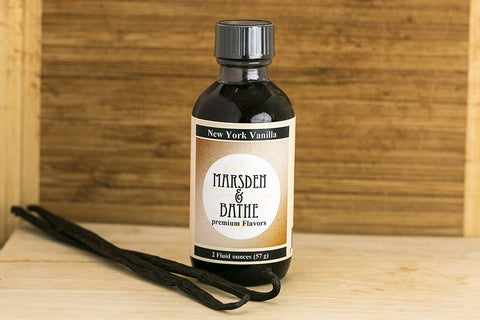 The Prepared Pantry
Marsden & Bathe New York Style Vanilla 2 oz
Try this sophisticated pure vanilla for less.
It's pure vanilla but not a bourbon vanilla. It costs us less so it costs you less. Use it just like you would other vanillas.
This pure vanilla has a stronger, more liqueur-like flavor. With its sophisticated flavor, it shows through in your dishes.
The professional bakers think so; it's what they use.
A fine vanilla with a deep rich flavor that holds up well in baking.
Particularly suited for dishes with fruit, spices, or other strong flavors.
A rich flavor profile that is perfect with dark chocolate and rich dishes.
"Single fold" vanilla. "Folds" measures the intensity of the vanilla.
A single fold means that 13.5 ounces of vanilla beans were used in the extraction of one gallon of vanilla.
Extracted from beans by a company with over 100 years experience working with vanilla beans and extract.
Comes in a dark glass bottle to protect the delicate flavors from light.
Marsden and Bathe flavors are generally used in bakeries and fine restaurants by pastry chefs and are not generally available to consumers. See if they are not better than grocery store flavors. They're 100% guaranteed! If you are not delighted, we'll give you your money back.
Ingredients: Pure vanilla extract, water, alcohol, and corn syrup.
Good vanilla!!
I use this in my cake and cookie recipes and it is a great flavor! Makes them more flavorful!!
Vanilla
Once you try this Vanilla you won't go back to a store brand. Nothing can compare. You won't be disappointed.