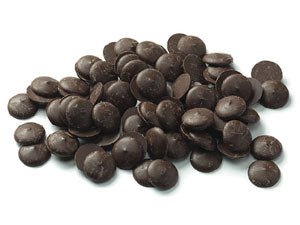 The Prepared Pantry
Imported Dark Chocolate Wafers 11 oz
This is the chocolate candy makers use.
It's made by a candy company for candy makers. But you can use it in your sauces and desserts.
It's very easy to work with. Just melt and dip. You'll make scrumptious, beautiful chocolate confections.
Use it for baking or candies. Use it for sauces. Drizzle it over cakes and desserts. It's sweeter and smoother than most semi-sweet baking chocolates and much nicer for sauces and delicate baked goods than melted chips.
It will work in any recipe calling for melted chocolate--cream pies, cookies, cakes, and more. It makes great ganache.
Rich, imported semi-sweet chocolate wafers
Melts easily and stays fluid longer (Melt it right on your stove top.)
Makes beautiful chocolates and candies
Made by a candy company--and taste like it
Resealable, zipper-type closure to ensure freshness
Ingredients: Sugar, palm kernel oil, cocoa powder, soya lecithin, and vanilla. This product contains soy and may contain trace amounts of wheat, dairy, eggs, peanuts, or tree nuts.
Perfect
Melts quicker and stays melted longer allowing time to drizzle on desserts. Not extremely sweet great taste.
Wafers….dark chocolate
If you're looking to add chips to your recipe but want more than the regular chip then these wafers are the answer!
Review
i have searched for these wafers for a long time. I have a family recipe that encloses them in cookie dough. Yum!