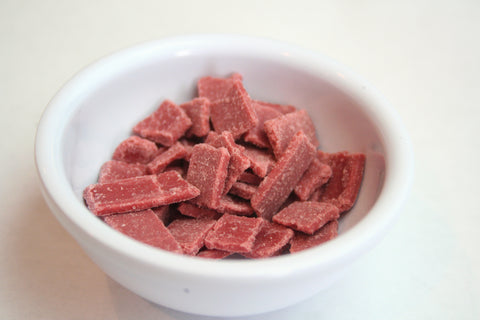 The Prepared Pantry
Gourmet Strawberry Tidbits (Baking Chips)
Look what you can make with strawberry baking chips!
Product may melt due to weather conditions during shipping. The Prepared Pantry is not liable for melted chips.
There are a thousand things you can make with these chips. For great cookies or muffins, attractive and delicious, add strawberry chips to your favorite recipes.
Use them as you would chocolate chips--in cookies, cakes, muffins, or any of your favorite recipes.
Add a burst of fruit flavor in every bite.
They melt like chocolate chips. Add beautiful red splashes in everything you bake.
Net weight, 11ounces.
Ingredients: sugar, vegetable oil (palm, palm kernel), enriched wheat flour (flour, niacin, reduced iron, thiamine mononitrate, riboflavin, folic acid), malic acid, natural flavor, caramel color, fruits and vegetables for color, tricalcium phosphate, sodium citrate, and soy lecithin. This product contains soy and wheat and is packed with equipment that processes baking mixes and may contain traces of tree nuts, peanuts, dairy, or eggs.
Gourmet Strawberry Tidbits (Baking Chips)
Great taste
My husband is a strawberry fanatic. I added the chips ti is muffins and also his cereal, he enjoyed them. I would recommend them true strawberry flavor.
Disappointed
They are shavings not tidbits. In the ad they looked bigger. Very disappointed. I ordered strawberry and blueberry and now I have to scramble to fine uses for them
Strawberry Tidbits Review
I like to add these tidbits to my pancake batter. They give the pancakes a great taste!
Absolutely Fabulous
I love to add these chips to my pancake or waffle batter. Gives them wonderful flavor . Just the right amount of sweetness so who needs syrup. Absolutely Fabulous