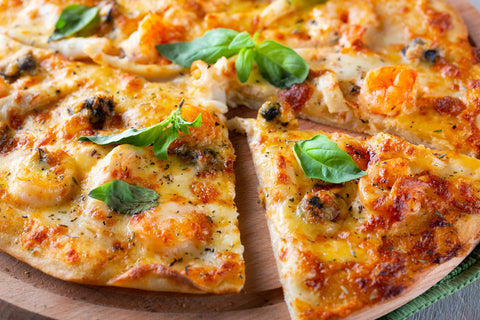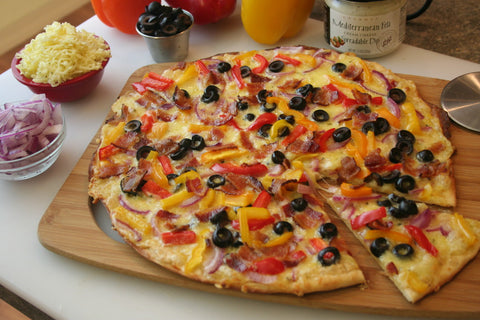 The Prepared Pantry
Garden Vegetable Pizza Dough Mix
Your classic pizza crust with a savory kick of flavor.
Infused with flavorful vegetables like sundried tomatoes and herbs.
Each large mix makes a 15-inch, medium-thick pizza crust or two thin crusts.
Authentic "old world" pizza dough with a mixture of the finest flours.
Makes a soft, pliable dough almost no "spring back."
High quality SAF yeast included.
Quick with easy-to-follow instructions.
 If you want to take your pizza crust up another level, try out this garden vegetable pizza dough mix. The vegetable and herb-infused crust packs a savory punch that you won't find anywhere else!
This pizza dough mix beats delivery! It's made your way--thin crust or thick and exactly with the toppings you want. The homemade pizza dough crust is better. The ingredients are fresh. Nobody will care for your pizza the way you do.
If you use your bread machine, use the dough setting--setting "eight" on most machines. If you're making a thick-crust pizza, let it rise on the pan. If you're making a thin-crust pizza, don't bother to let it rise. You'll get all the rise you need, loading your goodies on the crust and in the oven.
"It is a very good pizza dough mix and made an excellent pizza."  Patrick Prunty 

"Terrific. Family loves this."   Diana Seminer 
It's very easy to use. It's a soft dough with almost no spring back. You'll get a uniform crust that bakes perfectly.
"The Classic Italian Pizza Dough mix is delicious! I always make my own pizza crust so I had my doubts that a mix could be very good but this mix is so easy and fast and it tastes so good!! I had to purchase more right away so I will never be without it!"  

Shelly Hepp
Try it. See if you don't make better pizzas. Your family will love it. We guarantee it.
Tips from Customers
Most customers mix the dough in their bread machines and then bake the pizza in a hot oven. (You can also make the dough in your stand-type mixer.)

Lift up the corner of your pizza to see if it is browned.--Arthur 

 Pat and push the dough to get it to all corners. It's easy to even out the thickness by patting. (You can also use a pizza roller.)--Arthur

Consider baking your pizza on the grill. (It's easy to bake on your grill if you have a cover with which to trap the heat. Grills tend to be hot on the bottom. Put a baking sheet under or below your pizza to insulate your pizza or direct the heat away from your pizza.)--Lynn Bennett

Prepare enough toppings for two pizzas. With two mixes, make one for dinner and use the other one to make smaller pizzas. Freeze the smaller mixes.--Kim

Store leftover pizza slices in the refrigerator. Instead of reheating the slices in the microwave, heat them in the air fryer. The crusts are crisp. No more soggy pizzas.--Christine Koch

Use a cast iron flat skillet for a crispy crust. (A pizza crisper also works.)--


How to Make a Thin Crust Pizza



You can convert any pizza recipe to a thin-crust pizza by making a thin crust instead of a thicker one. But, with a thinner crust, reduce the amount of the toppings by maybe half. Too many toppings will insulate the pizza, and it won't be crisp. A thin crust pizza is more like eating a spread on a cracker. A regular pizza recipe converts well to two thin-crust pizzas.

 Use a Pizza Roller
Each pizza dough mix makes a regular pizza crust. For thin-crust pizzas, divide the dough in half and make two 15-inch pizzas. Use a pizza roller to roll the dough thin.
Step 1: Making the Crust

The enemy of thin-crust pizzas is gluten. Gluten is formed from two proteins found in wheat flour. When hydrated and mechanically worked, they twist together like tiny ropes. Those ropes give bread dough its elasticity.
But in pizza dough, that elasticity creates "spring back". You roll the dough into a 15-inch circle, and it wants to spring back to a 12-inch circle. You need a soft dough that will hold its shape.
"Dough relaxer" is the magic ingredient. It's in the pizza dough mix. It makes the dough soft and easy to roll out to a thin, cracker-like crust.
Without a dough relaxer, you cannot make a thin-crust pizza. Our pizza dough mixes are sized for a generous regular crust pizza. With dough relaxer, you can make two or three 15-inch thin-crust pizzas.
All you add is water. Use the dough hook with your stand-type mixer. Once the dough starts to come together, turn the speed to medium-high and mix for about one minute.
Step 2: Assembling the Pizza
Roll our pizza dough in the pan using a pizza roller. Press the dough tight into the corners of the pan so you don't have a build-up of dough around the perimeter of the pizza.
Brush olive oil over the pizza dough, then load the goodies on the dough. Again, don't overload the dough.
Step 3: Baking the Pizza
You need to bake 'em hot to get 'em crisp. Preheat your oven to 450 degrees.
How long it will bake will be a function of how high you stack your toppings. If the toppings are sparse, the crust should be crispy, and the cheese melted and bubbly in six to eight minutes.
Best pizza crust every 😊
Best pizza crust ever. The whole family loves it. The taste is soo good. Very easy to prepare in the bread mixer.
Pizza Dough
Have not tried it yet, but I am sure it's very good.
Delicious
So easy to use in the bread machine and rises again within 15-20 minutes. Bakes one thicker pizza or two thinner pizzas. The pizza roller is a game changer and makes a big difference as well. Family loves it and I'm not a pizza maker usually. Will be making all my own pizzas now. Fantastic!!