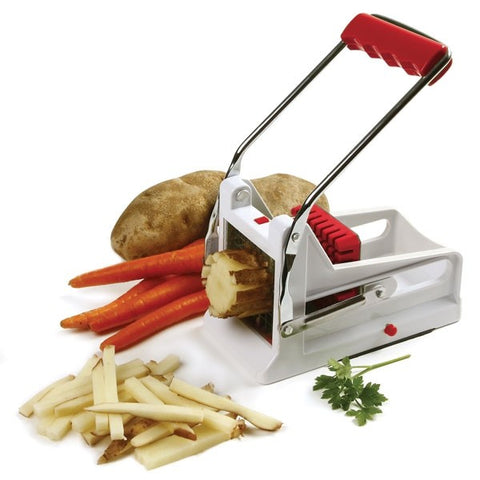 Norpro
Favorite French Fry Cutter
$38.99
$48.79
you save $9.80
Make better French fries than you'll ever find in a restaurant!
Homemade French fries are always better, always hot and never frozen. But did you know that you can make your own creations at home--like Cheesy Bacon French Fries and Nacho Fries. We'll show you how, but first let's talk about the cutter.
Suction cup base. Set it up securely on the counter and cut a lot of French fries in a hurry.
Comes with two interchangeable blades.
Thick fries or thin fries: 36 hole and 64 hole cutters.
Comfort grip handle.
To make really yummy French fries at home, get this cutter!
How to Make French Fries
Pick good quality russet potatoes. Wash them and cut out any bad spots.
Cut them into strips with your French fry cutter.
Heat the oil to 350 to 375 degrees. You can do so, on the stovetop or with a thermostatically controlled deep fryer. If you are frying on the stovetop, use a deep pan, a candy thermometer, and watch your work. If your oil becomes too hot, it can burst into flames.
Cook a small amount of fries at a time. If you cook too many, the potatoes will drop the temperature of the oil too far. Oil that is not warm enough will make your fries soggy.
Cook the fries until they are a rich, golden color and begin to float.
Remove the fries to a paper towel to absorb grease. Sprinkle them with salt and your favorite seasoning. Serve immediately.
How to Make Exciting Variations of Fries!
It's easy to make cheesy oven fries and other variations of fries and potato chips--simply take the basic recipe and add cheese, spices, or powdered flavors to your chips and fries. We'll give you the basic recipe and make some suggestions to get you started.
Cheesy oven fries. Sprinkle grated cheddar on the fries just as they come from the oven. A little paprika or pepper will provide some extra flavor.
Rosemary fries. Sprinkle on crushed rosemary.
Thyme fries. Sprinkle on crushed thyme.
Italian fries. Sprinkle on an Italian seasoning blend.
Taco fries. Sprinkle on a Mexican seasoning blend.
Sour cream dill fries. Dust your fries or chips with sour cream powder and sprinkle with dill weed.