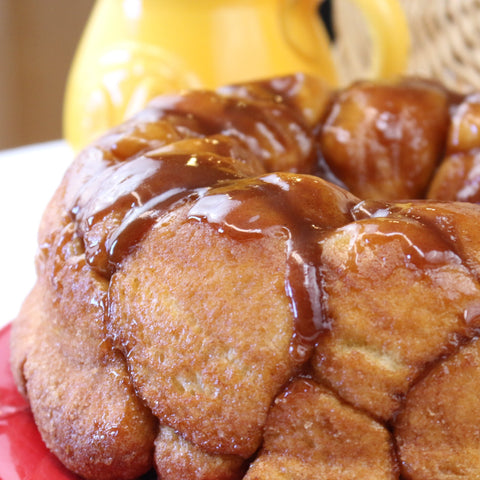 The Prepared Pantry
Donut Monkey Bread Mix (See what you can make)
Your family and friends will love this!
After all, it's "the most scrumptious concoction on the planet."
Imagine raised, glazed donut pieces covered in a melted sugar-cinnamon coating. No wonder it's so scrumptious!
Each puffy morsel is coated with a melted cinnamon sugar glaze
Made with a raised donut mix for lighter, fluffier monkey bread
Extra select imported cinnamon and delightful flavors make this very special
Each mix includes nearly 1 3/4 cups cinnamon sugar mixture
Extra-large 1 3/4 pound mix fills an 11-inch bundt pan to overflowing
Simple, easy-to-follow instructions.
See this illustrated Guide to Sweet Breads for more sweet roll pastry ideas.
Review
Gooey and sticky - what's not to love.
Review
We love the products.Always come out perfect.
Special treat
This was super yummy. I do not own a stand mixer, so I couldn't follow the directions as written, so I used the dough cycle on my bread machine (because I do have one of those) and stopped it after about 8 or 10 minutes when the dough had a nice, smooth texture - not sure if that's where I should have stopped it or not, but it turned out alright. There really should be directions for people who aren't using a stand mixer to describe what the dough should feel like, or how long to knead by hand (because I still do that unless I also plan to bake in the bread machine...). Anyway, I went with what felt right, which doesn't help anybody who isn't experienced with yeasted doughs. Each rise took 45-60 minutes in a 74ish degree kitchen, so the yeast was nicely active. I erred on the side of the longer end of the baking time, but I think something right in the middle would have been about right for my oven. Husband and toddler loved it, and it was easy enough to get right even without directions that fit my situation, so it's a winner for us. If you don't have a stand mixer and don't have much experience making bread dough, maybe look up some videos on making yeasted donut dough before you start. It'll help with knowing when the dough is kneaded enough.