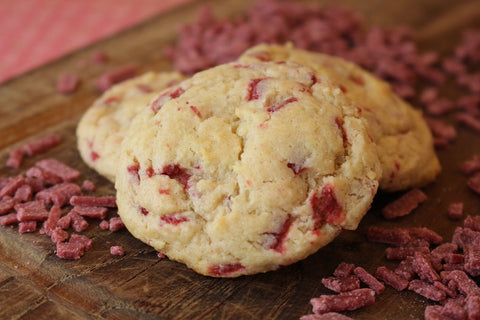 The Prepared Pantry
Dad's Strawberries and Cream Soft Pudding Cookies
Makes soft, moist cookies that everyone loves
A scoop of vanilla custard pudding in every batch
Each mix makes 36 nice sized cookies using a 1 3/8-inch scoop
Loaded with premium strawberry baking bits and natural strawberry flavor
Each mix weighs 24 ounces and makes 36 cookies.
Delightful
Baked these for a family get together everyone loved them. Delicious!
My husband's weakness
According to my husband, these are the best cookies anywhere. (I love them too.) Super easy to make and no-fail. Lots of strawberry flavor. Yum!
The Cookies are AWESOME!
Easy to follow recipe. Everything was included except eggs, oil and water…My new favorite cookies!
Dad's Strawberries and Cream Soft Pudding Cookies
Yummy yummy for everyone's tummy. This were simple to make and so delicious. I recommend them 100%. Run don't walk to your laptop and make an order. Thank you again prepared pantry for your excellent products! Jill K.
Great cookies
Everything we got from prepared pantry was delicious! We sent a lot of the mixes we bought for Xmas gifts to our kids👍