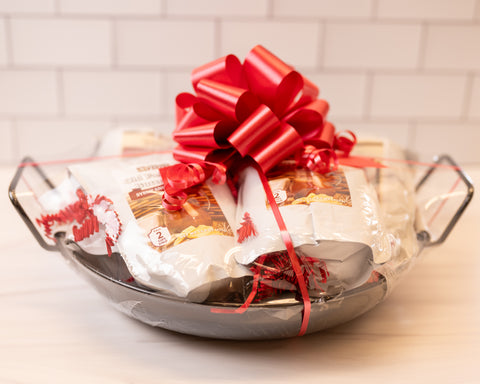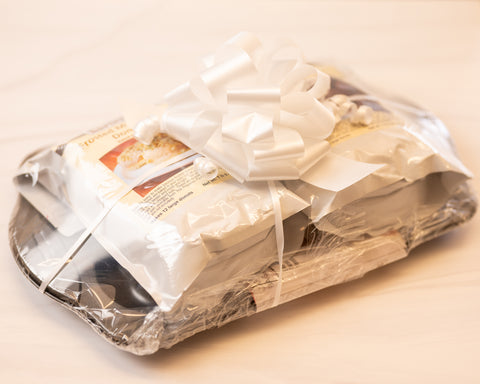 The Prepared Pantry
Custom Gift Wrapping
SKU: GiftBasketAndWrapping
Add a touch of elegance and surprise to your purchase with our Custom Gift Wrapping Service. Our skilled team takes great care in beautifully wrapping your selected items, ensuring each order is transformed into a delightful gift, ready to bring joy to its recipient.
Small:

 2-3 products per wrapped package

Medium:

 4-6 products per wrapped package

Large:

 7+ products per wrapped package
Features:
Elegant Wrapping Paper: High-quality, stylish wrapping to suit any occasion, be it a birthday, anniversary, holiday, or just because.
Personalized Touch: Include a personal message with your gift. Just type your message in the Order Instructions during checkout, and we'll include a handwritten card with your words.
Attention to Detail: Each item is wrapped with precision and care, ensuring they not only look fantastic but are also secure and protected.
Convenient & Time-Saving: Save time and effort, especially during busy seasons. Let us handle the wrapping, so you can focus on choosing the perfect gift.
Perfect for Surprises: Ideal for sending gifts directly to friends or loved ones. Our wrapping ensures that your gift arrives as a beautiful surprise.
How It Works:
Add 'Custom Gift Wrapping'.
Choose a size depending on how many products you want to include.
Write a message to the recipient in the Order Instructions (if desired).
We'll beautifully wrap your items and include them in your shipment.
If you want the delivery to be shipped directly to the gift recipient, enter their shipping details on the shipping screen. (Be sure to use your own billing info on the Billing section of checkout) Be aware of the shipping address and confirm it is going to the correct address before submitting your order.
If you have questions about your particular order and how it will appear, feel free to message us at customerservice@preparedpantry.com as soon as your place your order and we will be happy to help.
Transform your order into an extraordinary gift with our Custom Gift Wrapping Service. Add to cart now and make your gift unforgettable!