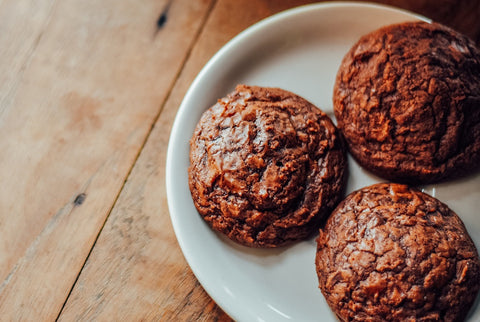 The Prepared Pantry
Coconut Brownie Cookie Mix
What do you get when you cross a chewy coconut macaroon with a fudgy brownie?
You get the best of both!
We took our Seriously Fudgy Brownie Mix and our Cocncuut Macaroon Mix put them together and came up with a seriously good cookie mix. It's seriously fudgy like the brownies and full of sweet coconut from the macaroons.
Yeah, and it's seriously good.
And it's seriously fun too. Look what you can make with it!
It's hard to beat a chocolate cookie and a cold glass of milk. But chocolate cookies and ice cream might. Put ice cream between two cookies and you have an ice cream sandwich.
And once you start filling them, there is no end. Put frosting between cookies or marshmallow cream. How about Nutella or melted caramels.
Coconut brownie cookie mix is the best
Wow, bought this mix on a whim and are we glad we did. These are delicious! My husband quickly named them his favorite. They are chewy and full of chocolate and coconut flavors. Immediately ordered more mixes for my pantry. These are definitely worth a try!!
My favorite cookie
This is my favorite combination, chocolate and coconut. It's easy to make and always delicious.
Great
The cookies and brownies are wonderful
My husband's great weakness!
I have found that you cannot mess up with either the bread or cookie mixes from Prepared Pantry. The coconut brownie cookies are simply delicious. My only caveat is that I will be sure to refrigerate the dough before baking because it is very sticky at room temp. Another fool proof, amazing product!