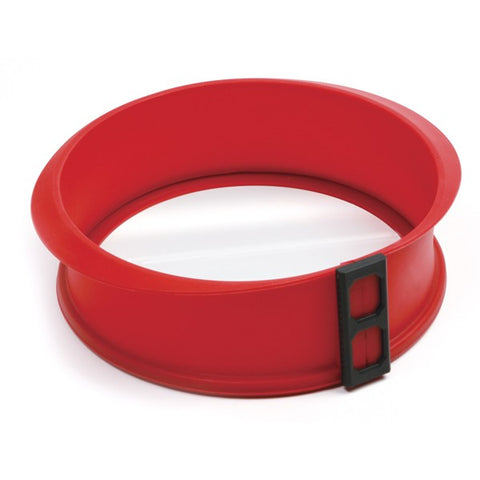 Norpro
Candy Apple Red Silicone Springform Pan with Glass Base
For more than a cheesecake--pies, cakes, desserts, and more.
This 9-inch red springform pan will change the way you bake.
Because it doesn't leak, this will be the most versatile pan in your kitchen!
This pan will open up an incredible new world of baking. It has literally changed the way I bake. I don't make square brownies anymore. I don't dig brownies out of the pan anymore. And I bake cakes, cornbread, and desserts on a glass base, set the glass base on a platter or cutting board, and cut nice neat slices.
I'm madly in love with this pan. If you don't fall in love with it, I'll buy it back.-Dennis Weaver
Add this to your cart. Bake better brownies, cakes, and desserts.
This is a major advance in pans! With less leakage, you can bake cakes, cornbread, and other desserts.
Use this pan for cheesecakes, cakes, and delicate desserts--even cornbread. You can bake things in this pan that you can't in other springform pans. The secret is in the double gasket-like seal. The silicone double gasket seals on both the top and the bottom create a double barrier against leakage. We've baked many cakes in these pans. They are not absolutely leakproof, but they are close. (In hundreds of uses, only occasionally have we had a leak, and only then with very thin, high-butter content batters. We never bother to put a baking sheet under the pan.)
The tempered glass bottom lets you bake, cut, and serve on the same attractive platter. You don't have to dig your cake out of the pan or scratch your valuable bakeware cutting slices. It has a superior joint seal, it releases perfectly, and clean-up is a cinch.
A superior joint seal between the base and the sides for less chance of leaking.
Nine-inch diameter pan.
Silicone is high heat resistant to 450¡F/230¡C.
Tested recipes are included on this page, and there is one on the box.
Silicone ring easily releases most desserts.
Less sticking to the silicone ring for more attractive cakes.
With less sticking, clean-up is quick and easy.
Serve and cut right on the glass base.
The superior seal virtually eliminates leaks with most batters.
It lies flat for storage, so it takes up less room in your cupboard.
It will change the way you bake. You'll bake fancy new desserts that you never thought of baking before. Buy this pan! You'll be glad that you did.
---
Kitchen Test Results
We tested this pan in our test kitchen by comparing this red silicone pan with a nonstick springform pan and a silver pan and using four criteria:
Leakage. The silicone springform pan has a superior seal. The silicone encompasses the glass base and acts as a double gasket. None of the three pans leaked in the oven. But the thinner the batter, the more likely it will leak so we tested them with water. We set all three pans on the counter and filled them with water. The metal pans leaked while the silicone pan held its seal. (In one of three tests, there was a tiny leak in the vertical seal where the ring joined, not enough to let batter out.)
Baking times. To our surprise, baking times were not affected. We baked cakes in all three pans in the same oven at the same time and then tested the internal temperature with an insta-read thermometer. The temperatures were essentially the same.
Release of the cake. The release is amazing. With other pans, we use a silicone spatula to slide around the edges before removing the ring. Even with nonstick pans, they tend to stick, and we often mar the cake edges with the spatula. With the silicone pan, you simply remove the clasp and peel the silicone ring off. There is no stick, and the edges of the cake are clean.
Clean up. Practically nothing sticks to the silicone, and what does, wipes off easily. You do not have to scrub the inside of the ring as you do with other pans.
Try these exciting recipes and more!
Add this magical pan to your cart. 
Review
This pan is amazing! I most often use it for brownies and banana bread. The silicone sides do not conduct much heat so the brownies and bread bake more uniformly. In addition, it is so easy to remove your baked goods from the pan because the silicone is non-stick. You will not be disappointed!