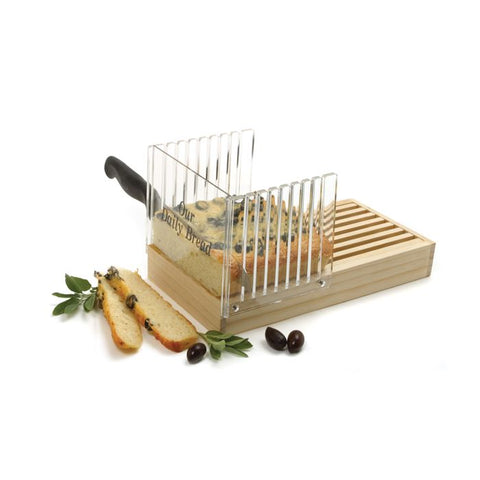 Norpro
Bread Slicing Guide
Use this cutting aid to slice even, professional-looking slices, either thick or thin. 
You put so much work into your breads, why not make them look nice with neat, uniform slices?
Cut nice, even slices for toast, dinner, or sandwiches. The slicing aid holds the loaf and guides the blade to keep your slices even and uniform. Use it to cut thin slices or thick.
Easy to use.
Heavy-duty locking spring.
Expands to hold up to 5 1/2 inches.
Washes easily in hot, soapy water.
For better looking bread and sandwiches, always use a slicing guide.
Have not used it yet… soon
No instructions
No instructions on how to put together or use. I put screws in but sides are very wobbly. Too late to send back as my son threw the boxes out. Too expensive to not be able to use. If the sides are supposed to be that wobbly then fine but should have had directions specifying that
Review
All items work well and I am satisfied with them, The Slicing guide is for my Daughter for her Birthday. I like mine and figured she might also.
Review
Fantastic!! So happy I found you! I'll definitely be buying from you! Look at Google for a raving review I gave you!! Thank you.