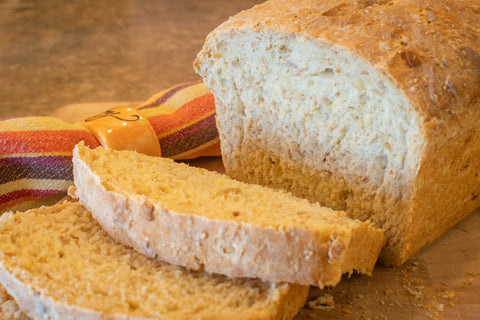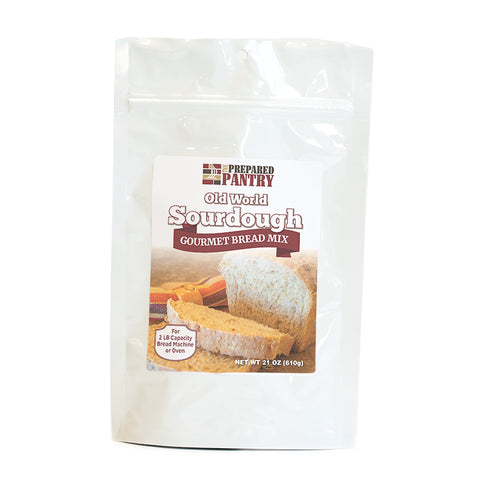 The Prepared Pantry
Old World Sourdough Bread Mix
Make this with your bread machine, stand-type mixer, or by hand.
Frequently Asked Questions
This is our best sourdough bread made with wholesome grains: rolled oats, rye, barley, and wheat.
European sourdough is a little different flavor than San Francisco sourdough--a very nice flavorthat's deep and complex.
If you like sourdough bread, this is a wonderful choice. It's a milder sourdough with a chewy crust, a wonderful split-top bread. The secret is the four wholesome rolled grains (wheat, oats, rye, and barley) plus a generous helping of sunflower seeds. Because the grains are rolled, not chopped, they blend into the bread for a smooth, soft texture. (Your kids or grandkids won't know that all those good grains are in there.) But you'll get a wonderful sourdough bread that is restaurant quality and very good for you.
This is a healthy choice with four whole grains and sunflower seeds. There are no preservatives.
A great bread for toast and sandwiches.
A soft, moist bread that your family will love.
Each package contains one bread mix that makes a two-pound loaf.
Use a thermometer to check water temperature and we guarantee your bread will work.
Don't miss this great bread.
It came out dense and small. Very disappointing!
I have made this bread in my bread machine twice. The first time I used the medium crust setting and the bread came out dense and small. I contacted customer service by email twice to see if I could swap out the mix for a different one and got no response. So I tried again with the second mix on a light crust setting. I got the same results and the bread was slightly doughy. I will never order this mix again. Ver disappointing experience!
Tasty
I bought 10 different mixes and have baked 3, Cranberry Nut, Cracked Wheat and the Sourdough mixes. I love the ease of using the mixes in my bread machine without compromising the taste. I am 80 years old and hadn't made bread for over 40 years but I'm hooked now with your mixes
The best
Always love the different breads. I have tried almost all of them and can't decide a favorite.
My orders from you are always just as I expected.. all the breads are great.we will continue to order from you.
Old World Sourdough Bread Mix