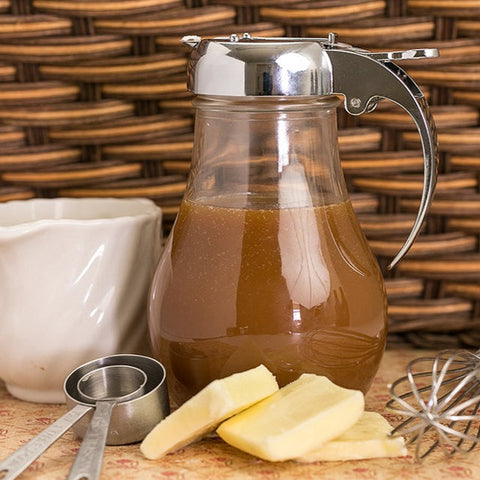 The Prepared Pantry
Sweet Potato Pancakes with Old Fashioned Buttermilk Syrup, A Bundle
$12.98
$15.98
you save $3.00
24 ounce pancake mix
buttermilk syrup mix makes 2 cups of luscious syrup
"Naturally Wholesome Pancakes" 
Made with 

carefully milled, farm-raised sweet potatoes--for homestyle goodness and nutrition

Packaged in a resealable Mylar bag for fresh pancakes down to the last

As healthy as they are beautiful--loaded with vitamins and fiber in attractive, all-natural, golden pancakes
Easy to make: JUST ADD WATER. No eggs or milk are necessary!

Sweet potato pancakes with buttermilk syrup, what a wonderful breakfast!
Pancakes, of course, is a companion product. The pancakes are important, but so is whatever you put on them. It's the combination that satisfying. Let me introduce you to a wonderful combination:
Sweet Potato Pancakes drizzled with warm buttermilk syrup.
Oh, that's to swoon over. Those are pecan pieces on top.  The buttermilk syrup is mostly a caramel flavor but with a butterscotch tone.

It's to die for.
You could add the pecans to the batter, but there's more crunch to putting them on top. 
And the syrup--that's buttermilk syrup. Buttermilk syrup is a caramel-flavored syrup with some butterscotch overtones. It's absolutely scrumptious, too. Put the two together, and they are out-of-this-world good.
And the syrup is super easy to make: Add butter and water and cook it until it turns brown. That's all. (The package makes 16 ounces.)
That should make you famous.