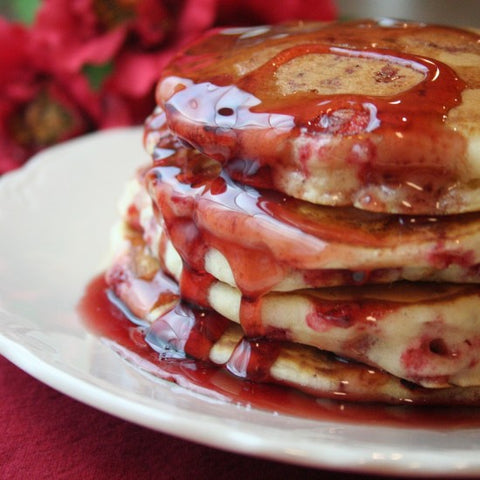 The Prepared Pantry
Raspberry Sour Cream Pancakes 24oz.
What makes these so good? Why are they our bestselling pancakes?
Easy to prepare. Just add water
Light and fluffy pancakes
Loaded with raspberry bits that melt on the griddle for splashes of crimson
A bright raspberry flavor for intense raspberry-flavored pancakes
A touch of sour cream to add tartness to the sweet-flavored pancakes.
The combination of the three makes for fabulous pancakes. The fresh raspberry taste stands out even when your pancakes are drenched in syrup.
Raspberry Sour Cream Pancakes
Great taste. Fluffy and so easy to prepare. I think I'm going to see if I can work it into waffles!
Yes please
first time trying this package and oh my, it is so good, moist, flavorful and easy to prepare. Will continue to purchase again and again
Changed the recipe
This was better when you had to add your own eggs. Still good though.
These are the berry best!
Wonderful pancakes with berries in every bite. So easy to make too. Top them with the berry syrup..a whole new level of tasty!!
Great!
I loved them - served with maple syrup and fresh raspberries on top!