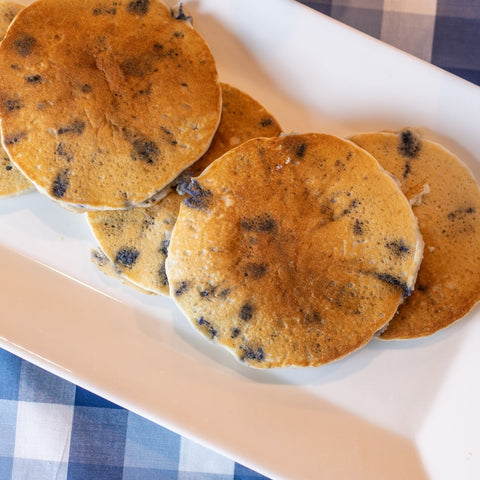 The Prepared Pantry
Elderberry Pancake Mix (24 oz.)
Elderberry syrup is tart and tangy, a very unique syrup that's very hard to find.  We have the syrup.  These are the companion pancakes.
These pancakes are made with elderberry flavor and fruit bits.

Beautiful pancakes with purple splashes of

 

melted bits

Just add water

Makes up to 24 four-inch light and airy pancakes
Perfect for waffles 
These are "bucket list" pancakes--tart, flavorful, and pretty. And we have an elderberry syrup to go with the pancakes.
This was a stretch.  Our Elderberry Syrup is very good, with rave reviews. So we set off to develop an elderberry pancake to go with it.
But we couldn't find dried elderberries. We did find a very good elderberry flavor. We added some fruit bits that were "close enough." We had elderberry pancakes to match the elderberry syrup.  
We didn't intend this to be an everyday pancake--but something unique and delicious that you ought to try. 
Elderberries are scarce. I'm amazed that we can get an elderberry syrup. But we can, at least for now.

Give these tart elderberry pancakes a try.
Elderberries have a very intense flavor. Elderberry syrup and pancakes together make a unique experience. Don't miss the opportunity to check this off your bucket list.
See the Elderberry Syrup made with elderberry juice.
A note about elderberries: Elderberries are rich in antioxidants and phytonutrients. They are one of the healthiest berries. (These pancakes don't have elderberries; it's all done with flavors.) But if you add elderberry syrup, you'll get the health benefits. The syrup is made with pure elderberry juice.
Elderberry pancakes
Loved them. My new favorite
New. Elderberry Pancake Mix (24 oz.)