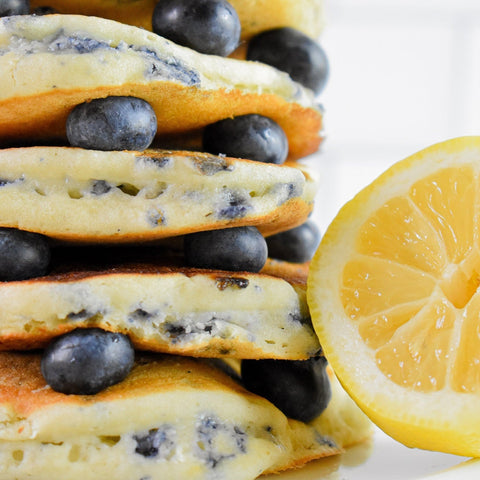 The Prepared Pantry
Southern Blueberry Pancake Mix (24 oz.)
These may be the best blueberry pancakes on the planet! Lemon and blueberries is a classic combination.
When I was a kid, lemon pie was my favorite pie. My mother made it; I ordered it in restaurants.
My grandmother had a blueberry patch. The bushes were waist-high and deep. They were covered with plump blueberries that found their way into pancakes, muffins, and cookies. 
Somehow, lemon complimented the blueberries.  I  remember gingerbread drizzled with lemon syrup. We made blueberry muffins and filled them with lemon like you would fill cupcakes. The picture in the gallery is of a cake topped with blueberries and drizzled with lemon syrup. The juice from the blueberries stained the lemon syrup a beautiful magenta.
"Pancake heaven! An awesome compilation of blueberry goodness!"  Cheryl P.
It's no wonder I love these blueberry lemon pancakes.  (By the way, we have a lemon syrup mix that tastes just like lemon pie. I highly recommend the syrup mix.)
These are bright lemon pancakes loaded with blueberry baking bits that really deliver the fruit flavor in a light fluffy texture. The blueberry bits are the same mini-baking chips are the same baking chips used in our cookie and pastry mixes. They melt on the griddle for bright splashes of blue, making these pancakes as attractive as they are good to eat.
These are wonderful pancakes to serve your family and impressive pancakes for your guests or for a special occasion. You can also make waffles with this mix. For extra crispy and light waffles, fold a beaten egg white into the mix. (Egg whites tend to make waffles more crispy because they are fat-free. The yolks make then softer with more fat.)
Every tester agreed that this is a superb pancake. You've got to try these wonderful blueberry pancakes.
too sweet
We made the mix and it is way to sweet. I want to add the sweetness so I can adjust to my taste
Easy to make and delicious!
Easy to make and delicious!
Pancake heaven
An awesome compilation of blueberry goodness!