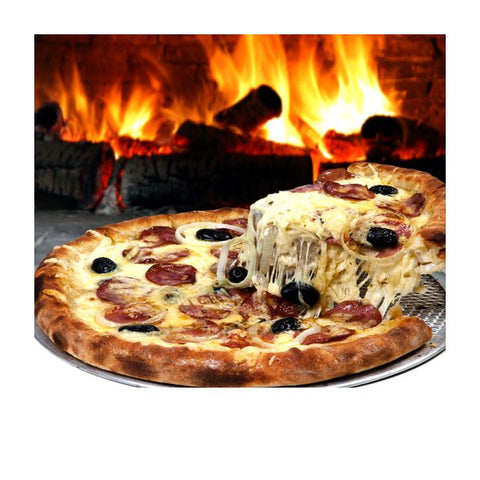 Norpro
Anodized Aluminum Pizza Crisper 16 inch
Turn soggy crusts into crispy crusts!
This works when you make a pizza. It works when you reheat leftover pizza.
It's perfect for thin-crust pizzas.
No more messy stone cleanup
No more soggy crusts
No more waiting to heat up a stone
No more pizza paddles
Perfect for making pizzas. Perfect for reheating pizzas.
Thin crust pizzas should have crispy crusts. That's tough to get with a traditional pan. Your pizza pan deflects the heat away from the crust and toppings insulate the crust from above resulting in underbaked, soggy crusts . . . or, to get the crust completely baked, you overbake the toppings.
You can solve that problem with a preheated pizza stone. By placing the dough on a preheated stone, the crust bakes quickly without overbaking the toppings for that perfect crisp crust.
But that means you have to preheat the pizza stone. With a pizza crisper, you don't have to do that. Just place the unbaked pizza on the crisper.
Great for fresh or frozen pizza!
Use in the oven or on the grill.
Crispier pizza crust and breads.
Anodization offers extra durability and heat conductivity, rust resistance, and protection from sticking or burning.
Twice as strong as steel.
Heat resistant up to 535¡F/280¡C.
FDA approved.
Easy to clean.
Hand washing is recommended.
Wonderful Customer Service!!
UPS destroyed my box, destroyed 4 mixes and repacked everything again. Prepared Pantry made everything great by sending me the replacements in an extremely timely manner. I will continue to purchase their wonderful items and I recommend them 1000%!
Yum
We love all the mixes that we ordered...
Review
All products were above expectations and arrived in a timely manner. Thank you
Review
This is the BEST, hands down, pizza pan I've ever used. I must have a dozen different pans/stones ranging from inexpensive aluminum to very pricey Emile Henry. I've always pre-baked my pizza crusts because it's so hard to get them crisp enough on the bottom. With this crisper I can put the unbaked pizza dough directly on the pan, load it up with whatever, shove it in a 450 degree oven and it makes PERFECT pizza. Every time. Highly recommend.