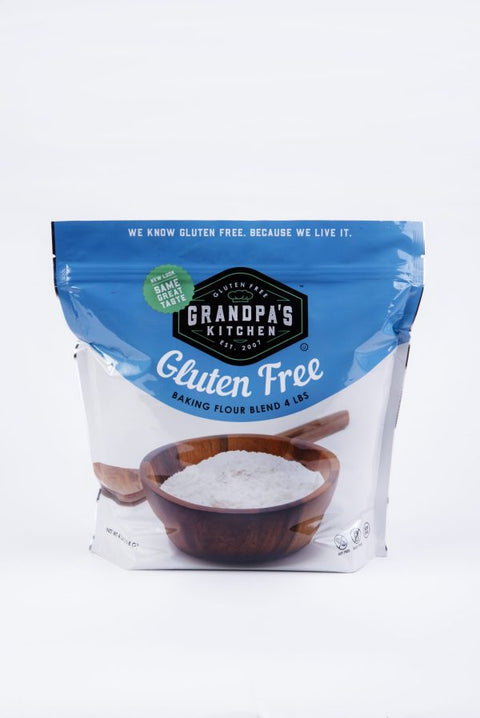 Grandpa's Kitchen
Grandpa's Kitchen Gluten Free Flour Blend 4 lbs.
Regular food--gluten free!
This is the very best gluten free flour blend we have found. It tastes like regular food!
Grandpa's Kitchen Flour Blend is a blend of many different flours which, when mixed together, give you an excellent substitute for ordinary white flour. With our flour blend you will be able to make the delicious baked products you have been missing.
Pancake or Waffle Recipe
4 large eggs
1/4 cup vegetable oil
2 1/2 cups milk
2 1/4 cups flour blend
4 teaspoons baking powder
1/2 teaspoon baking soda
1/2 teaspoon salt
1 tablespoon sugar
Directions:
Mix the first three ingredients, the liquid ingredients, together in a small bowl.
Whisk the rest of the ingredients, the dry ingredients, together.
Combine the wet ingredients with dry ingredients in a larger bowl. Stir until most of the lumps are gone. The batter will thicken as you stir. Add more liquid to get the desired consistency.
Cook on a hot griddle as you would with other pancake batters.
Review
100% the best gluten-free flour out there. It also makes the best pancakes of any kind of flour there is. It cooks and takes like regular flour more than any other gluten-free flour there is and we have tried them all. Highly recommend.
Review
Best gluten free flour out there. Make the best pancakes of any flour. Highly recommend.