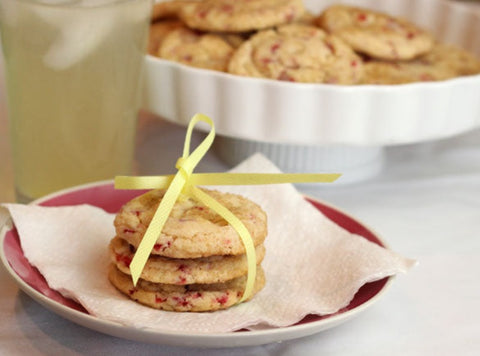 The Prepared Pantry
Raspberry Lemonade Cookie Mix
I lived in the South for a couple years. In my mind, I see giant oaks draped with Spanish moss that gently moved with the slightest breeze. I remember crickets and the background hum of birds high in the branches. I remember sitting under those branches with friends and quietly talking with a cold glass of lemonade. It was a gentle time and the world seemed right. These cookies remind me of those times.
These raspberry lemonade cookies are made with real raspberry bits in a sweet lemon cookie.The raspberry is bright and bold, and the lemon is tart but not overwhelming. The cookies are coated with turbinado sugar to give them crunch.
We have served these in our store, and they have been a terrific hit. We guarantee that you'll love these extraordinary cookies. They are truly gourmet cookies.
Family loved
Made these for Thanksgiving. My most grumpy relative raved about them. All others thought they were really good. Going to give my daughter a few packages for her birthday and reveal my "secret" recipe.
Review
If there was a rating higher than 5 stars I would definitely give it to this cookie Mix. The flavors are so fresh and inviting... just like eating cookies with a sip of lemonade. They keep fresh forever, too, which is a big plus! I made these 3 weeks ago and "forgot " about them in our "cookie can ". They were every bit as good after 3 weeks as when freshly baked! This was brand new flavor combo for me and now, it has replaced even my previous favorites. You just have to try these once and you will be hooked... especially if you love that fresh lemonade flavor sweetened just a bit by the raspberry chips! Awesome!
Review
The mixes are great. Delivery is made in a timely manner. I love all the choices of different mixes.
Review
These are the best cookies I have every had. I made them for a seminar and now everyone wants to order them.Someone said "It's like Summer exploding in your mouth " with the lemonade and raspberry.
Review
Bought these cookies, thinking it sounded like a good combo. And I was right!!!! These cookies are like nothing I have ever had before! So good, we will be buying more.