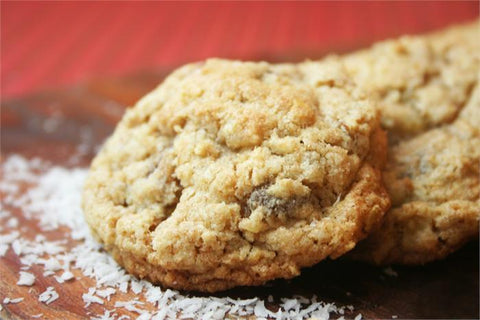 The Prepared Pantry
Breakfast Cookie Mix--Tropical Sunrise
You've never had a cookie like this before! It's a hearty, healthy breakfast cookie. And surprise --your kids will love it. Don't let them go to school hungry but save one for your commute too.
Start your day right. These cookies are great for breakfast on the go!
quick breakfast
I'd love them more if they had more oatmeal in them
Review
OMG! These will never last long enough for breakfast. Ed was eating them as fast as they came out of the oven! Please let me know when they'll be back in stock and be prepared for another order ASAP ! These are just yummy! Yes, I managed to get a couple :)
Love this healthy cookie.
My husband even liked it and he's not a fan of coconut. I love that I can eat more than one without feeling guilty. The flavor is amazing without being too sweet.
Review
Tried these for the first time this weekend - tried to follow instructions exactly as written - questioned the 8 minute baking time but took them out of the oven at exactly 8 minutes and let them set up a little. Great flavor, crisp on bottom, chewy in the middle - delicious. My problem will be saving them for "breakfast " - glad I gave them a try!!